Minor revolution on rails
Alstom is preparing to launch the first fuel cell train in Germany.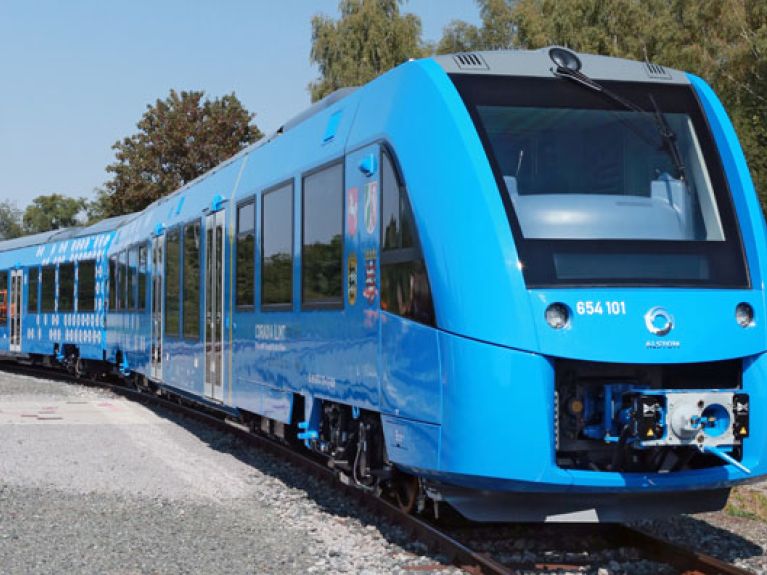 While the world's first carsharing scheme with fuel cell vehicles is already running in the Munich region, the Alstom train technology group in Salzgitter is preparing a minor revolution on rails: the first fuel cell train is scheduled to travel from 2018. The development of the so-called Coradia iLint has been made possible by a collaborative partnership between the French company and four German states and another region interested in introducing this technology. "Germany is the ideal launch pad for hydrogen technology because customers are demanding increasingly innovative and environmentally friendly products," says Alstom. The train was presented in Berlin in September 2016 at InnoTrans, the largest rail industry trade show. It is currently undergoing the approval process at Germany's Federal Railway Authority (EBA).
Equal performance with zero emissions
The Coradia iLint is based on the proven Coradia Lint 54 diesel train. Exchanging the diesel drive system for a fuel cell drive enables sustainable train operation while maintaining accustomed performance. The new trains achieve a similar top speed of 140 km/h, have comparable acceleration and braking performance and offer space for exactly the same number of passengers. But they are emission-free and low-noise.
Alstom expects the development to generate a great deal of future business. After all, many countries still have large numbers of diesel-powered locomotives – there are 2,700 in Germany alone. And these will have to be upgraded in the next 5 to 20 years.