"Strong desire for answers"
An interview with Achim Steiner, UNEP Executive Director.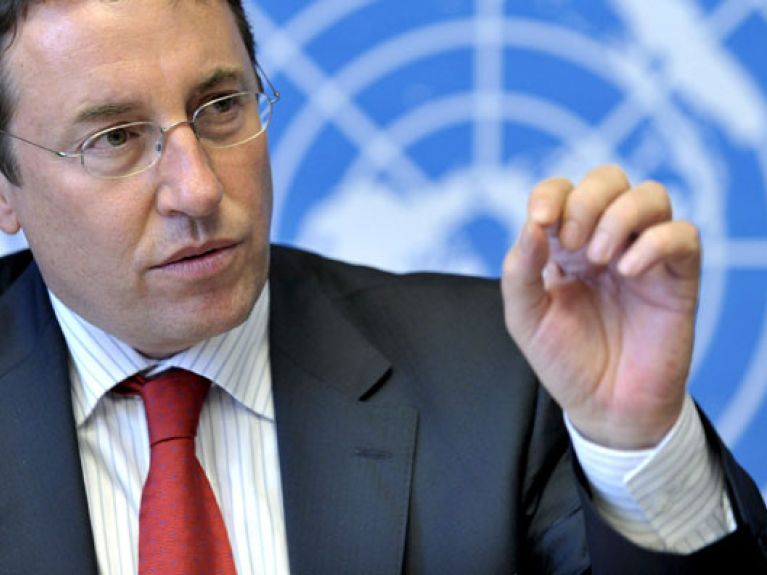 Mr. Steiner, the 1992 United Nations Conference on Environment and Development in Rio de Janeiro created a spirit of optimism. What is your assessment of the last twenty years?
In a word: mixed. On the one hand, today in many respects we still have a long way to go to meet the Agenda 21 goals agreed in 1992. Globally, the goal of orienting our development and economic policy towards sustainability has not been achieved. I say "mixed", however, because at the same time advances have been made in almost all countries and in certain areas there have even been dramatic advances. Today worldwide we have a completely changed awareness of the importance of sustain­ability. In addition, we have new environmentally friendly technologies and new geopolitical realities. These also include the fact that countries like China and Brazil have become pioneers of sustainability in individual sectors.
What expectations and hopes do you have of the Rio+20 conference?
We are confronted by the challenge of combining long-term goals with short-term crisis management. Challenges such as the euro crisis in the European Union or the social unrest in the Arab world are not making preparing for the conference any easier. At the same time, there is a strong desire within many governments and among the global public to find better answers to constantly recurring crises – for example, of climate change. And examples exist which show that progress is being made – despite the rapid changing focus of everyday politics. Take the example of Germany's new energy strategy, which has opted in favour of phasing out nuclear energy and increasing the development of renewable energies.
How do you view this new energy policy?
I believe the decision of the Federal Government is groundbreaking. I think we will see a large number of technological and energy policy impulses as a result of this decision, which will also enable Germany to assume an innovative leading role.
What role does industry have in the effort for sustainability?
The role of industry is key. Many people do not realize that on average worldwide the public sector is only responsible for roughly one fifth of the economy; the overwhelming majority is managed by the private sector – from your local corner shop to the multinational conglomerate. Although there are also actors here that are redefining and reorienting themselves in the direction of sustainable development, at the same time there are still companies whose primary aim is maximizing profit. Against this background, economic and regulatory policy instruments are becoming increasing important – also because there is clearly no basis to the paradigm that "The market will put it right". That doesn't mean that we will replace the market in some way. We don't want a centralized system of state planning. We do, however, very much have a responsibility to intervene and take corrective action where the market doesn't pass on the true costs to consumers – for example, the price of overfishing or high CO2 emissions.
Does that mean you can see opportun­ities for prosperous and sustainable economic development?
Absolutely. In November 2011, UNEP presented its report "Towards a Green Econ­omy" to the global public. On more than 600 pages we outline how a sustainable economic policy would enable countries all over the world not only to promote new technologies, but also encourage econ­omic growth and increase efficiency. And – perhaps currently the most important argument – create new jobs. Hundreds of thousands of new jobs have been created in Germany alone as a result of the new direction of energy policy. A future-oriented energy policy should not only consider how to achieve the lowest price for a kilowatt hour of electricity, but also how to create perhaps 10, 20 or even 30% more jobs by concentrating on renewable energies. The possibilities are also demonstrated by the example of the recycling industry, which 30 years ago was viewed as a side issue, but has today become an enormously important economic factor. We meanwhile recycle 60 to 70% of no longer used iron and steel worldwide.
Which examples worldwide raise your hopes that sustainable policy can succeed?
There are numerous examples. There are the Green Economy strategies passed by South Africa's President Jacob Zuma. Or the climate policy measures taken by the Mexican government in the last three to four years, for example, in the field of reforestation. Or take India, where the connection between the social and ecological dimensions is becoming clear and the Rural Employment Guarantee Act is guaranteeing work for the poorest of the poor – work of which 80% serves to preserve the ecosystem. Three years ago, Kenya anchored a national energy policy in law that has led to the country achieving the expansion of its electricity supply entirely with renewable energies. I am often asked where my optimism about the success of sustainable policy comes from. Well, I would say it mainly stems from this diversity of projects and initiatives worldwide.
Interview Johannes Göbel