Dark-sky parks for Germany
Artificial light is making our nights ever brighter. Not only is this a waste of energy, it also puts a strain on entire ecosystems.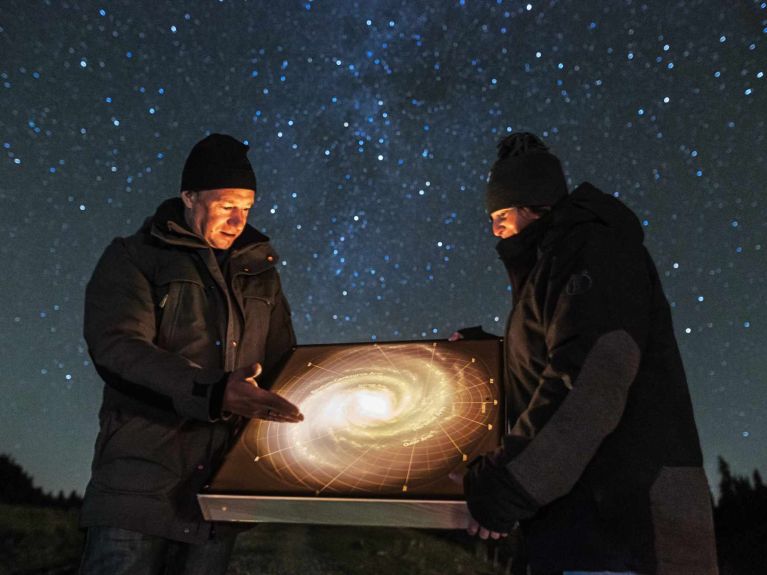 When lights are switched off for Earth Hour at many places around the world on 25 March to campaign for climate protection and protest against energy wastage, this is still far too little in Manuel Philipp's view. "To be honest, I have always been a bit annoyed by Earth Hour," the physicist and astronomer explains. "I've nothing against the symbolic value of the initiative. But there is a very obvious problem that the campaign has hardly addressed at all so far. And whose consequences are at least as drastic as those of our excessive energy consumption, which after all is what the switching off of artificial light is supposed to highlight." 
What Philipp means is that light itself is the problem. These days there is so much artificial light that experts say it is literally polluting our natural world. Huge domes of light pollution form, especially over large cities, radiating what is known as skyglow across a radius of up to 200 kilometres. And according to a current study conducted by the German Research Centre for Geosciences (GFZ) in Potsdam, artificial light is increasing all the time worldwide – by almost 10 per cent a year. 
Light's fatal effect on many insects 
Nights in cities are so light nowadays that the stars are hardly visible any more. Environmental organisations warn of the effects that light pollution has on entire ecosystems. The sleeplessness that more and more people are experiencing because their circadian rhythms are disrupted is the least of our problems. "Light sources have a vacuum cleaner effect on night-active insects, many of which also play an important role as pollinators," Philipp reports. "They simply stick close to the light source and either get eaten quickly or die of exhaustion."  
There is no need for this to happen. "Roughly a third of the light that we produce at night is wasted. We could easily do without it, in other words, and with no need to fear that we would always have to walk through dark streets in future," says Philipp. In 2019 he founded the initiative "Paten der Nacht" (Saviours of the Night) to encourage a more conscious approach to artificial light. 
Earth Night and the Milky Way over Frankfurt 
As a follow-up to Earth Hour, the campaign Earth Night was launched in 2020. Rather than for just an hour, lights are to be switched off for an entire night around the time of the new moon every September. Over one hundred cities took part in 2022, and Philipp was able to persuade some 30 municipalities to turn off their street lights. Sometimes Philipp imagines what it would be like if for once all the artificial light in a big city really disappeared: "Then you would be able to see the Milky Way from Frankfurt city centre."   
Ultimately, it was his enthusiasm for the stars that got the astronomer interested in this issue. On his initiative, one of five dark-sky parks in Germany was established in the German Alps: these are dark-sky reserves with as little artificial light as possible, certified by the US International Dark-Sky Association (IDA). There are 175 such Dark-Sky Communities worldwide. 
You would like to receive regular information about Germany? Subscribe here: