Decisive women
Energy transition towards gender equality: why women's participation matters for successful climate protection.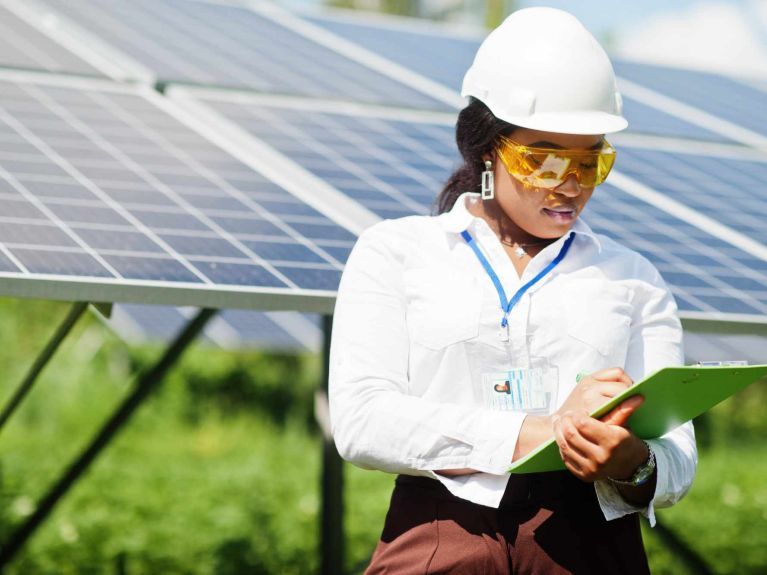 "The renewable energy sector holds out high hopes when it comes to the role of women." But what the "Women Energize Women" initiative thus puts in a nutshell also has the flip side of hitherto untapped opportunities: as early as the end of 2021, "Women Energize Women" noted in a blog post that only 32 per cent of jobs in the renewable energy field are held by women. While the share of women here is still higher than in fossil fuel fields such as the oil and gas industry, where it is only around 22 per cent, if one half of humanity remains insufficiently engaged in the energy transition it can hardly succeed. This is why "Women Energize Women" is campaigning for more gender equality.
What is "Women Energize Women"?
"Women Energize Women" is an initiative of the German Federal Ministry of Economic Affairs and Climate Protection, implemented by the German Renewable Energy Federation (BEE) and the Deutsche Gesellschaft für Internationale Zusammenarbeit (GIZ) within the framework of the Bilateral Energy Partnerships. The aim is to "inform, mobilise, inspire and connect women around the world working for the energy transition". To this end, "Women Energize Women" relies on different event formats such as discussion rounds and networking events. The initiative communicates information on the situation of women in the energy sector and how it could be improved - through, for example, mentoring programmes for female founders or targeted networking of female energy experts. Last but not least, "Women Energize Women" presents role models that women around the world can look to for guidance.
Who are the female role models?
The work of "Women Energize Women" has already brought together numerous female experts in the energy sector. For instance, the South African Yolanda Mabuto, who has been facilitating clean and cost-effective energy use with her company Divaine Growth Solutions since 2016 and has at the same time been championing gender justice. In Jordan, Maysoon Al-Khuraissat's company advises architects, engineers and homeowners on sustainable building development. With her company Lanforce Energy, Judith Marera of Zimbabwe strengthens, among other things, the financial independence of women through low-cost and environmentally friendly energy production. And "Women Energize Women" also presents numerous other exciting figures in video portraits.