Wanted: skilled workers for energy
Germany offers many job opportunities, especially in the field of renewable energies - and prospects for international skilled workers.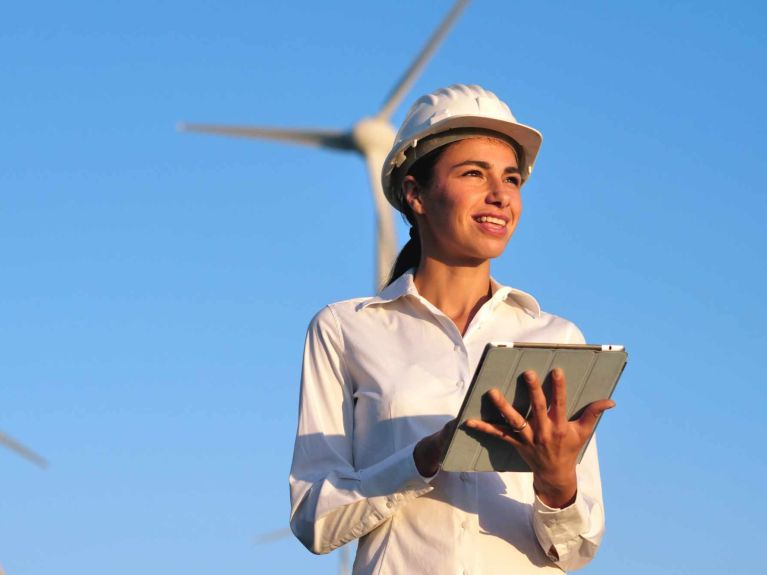 Youssef El Gorch is helping with Germany's energy transition. The young Moroccan is doing an apprenticeship as an industrial electrician at a medium-sized company in Thuringia and is thus strengthening an area that is becoming increasingly important in Germany with regard to climate protection. Electrification - of industry, among other things - is associated with many of the hopes for reducing CO2 emissions. Germany needs numerous international workmen and women for its "Green Economy", not least to meet the great demand for skilled workers.
Heating technicians and plant mechanics are also particularly in demand, as are workmen in the fields of sanitary, heating and air-conditioning technology. The need in Germany for international skilled workers for the energy transition also affects different training paths. Engineers, for example, are also sought. They are needed, among other things, as designers for environmentally friendly developments, but also as environmental technicians, energy consultants and in vehicle production, all of which in turn influence the ecological transition. "Digital transformation is needed for the energy turnaround" is also a demand of the German Association of Energy and Water Industries, which makes clear that International talents have likewise good chances as IT specialists to help shape the German energy transition.
Stronger demand for skilled workers
The number of skilled workers needed is too high for Germany to meet without qualified international applicants. Experts project that between 2019 and 2021 alone the number of jobs in the renewable energy sector in Germany will rise from 28,900 to 71,500, an increase of 147 per cent - and that new job profiles will also emerge in, for instance, service technology for wind energy or energy management.
You would like to receive regular information about Germany? Subscribe here: