Two countries, one university
German higher education is in demand: students can also benefit from it at universities outside Germany.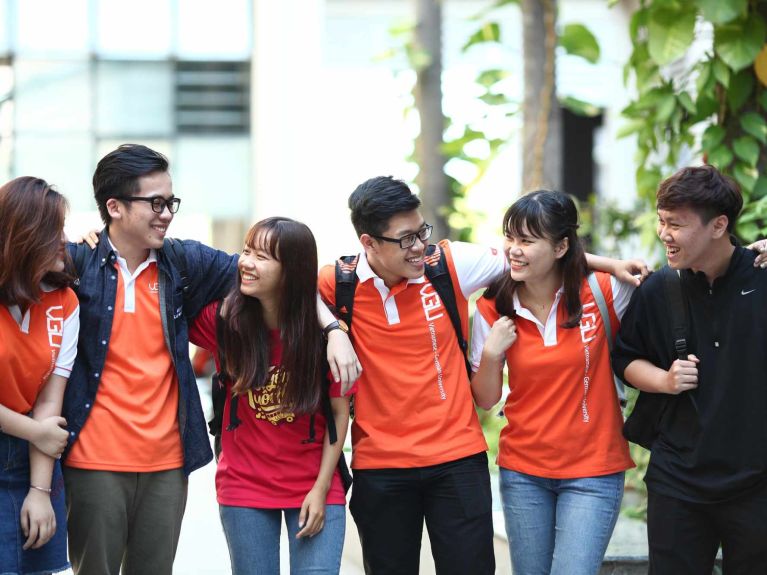 Educational programmes offered by German universities are popular all over the world and can also be taken advantage of at binational universities. In recent years, several of these special universities have been established or have continued to grow. We introduce you to three of them.
German University in Cairo (GUC)
At the beginning of September 2022 the German University in Cairo (GUC) celebrated two anniversaries: its twentieth anniversary and the tenth anniversary of the GUC campus in Berlin. More than 12,000 students are enrolled in more than 100 degree programmes at the GUC, which is one of the largest projects in the field of transnational education. In recent years more than 7,000 Egyptian students have studied at the Berlin campus alone. The GUC cooperates closely with the German universities of Ulm, Stuttgart and Tübingen.
German University of Technology in Oman (GUtech)
The goal is a self-confident one: the German University of Technology in Oman (GUtech) wants to become the leading technical university on the Arabian Peninsula. Since its founding in 2007, GUtech has already achieved a great deal together with its German partner university RWTH Aachen – for example, in the development of research activities and a quality management system based on Aachen standards. Currently, the Federal Ministry of Education and Research (BMBF) is funding an expansion of the digital offerings with virtual practical courses and virtual laboratory exercises. GUtech also includes a centre for renewable energies, which is dedicated to research on, among other things, green hydrogen.
Vietnamese-German University (VGU)
Diversity is essential for the Vietnamese-German University (VGU): it focuses equally on teaching and research in the economic and in the natural sciences, IT and "smart engineering". No fewer than 36 German universities, including the association of leading technical universities in Germany, TU9, are partners in a consortium with the VGU, which has a campus in Binh Duong Province and one in Ho Chi Minh City. The university currently has around 1,700 students, a number it wants to increase to 12,000 by 2040.