Digital learning
Studying online: German course providers offer networked digital learning opportunities.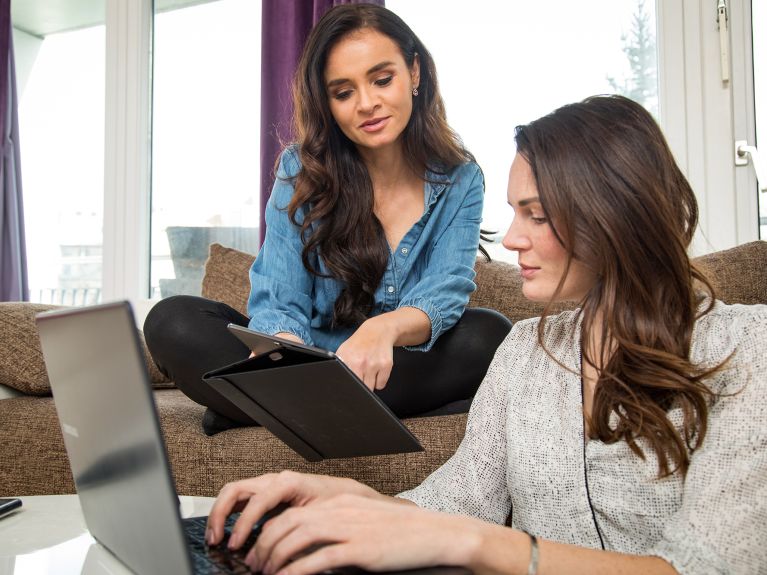 Where will you find digital learning programmes in Germany?
From RWTH Aachen University in the west to Wismar University of Applied Sciences in the east, there are many different options available. For example, you can look for online courses at distancelearningportal.com, a platform set up by international student organisations. Universities and colleges all over Germany now offer online study programmes: some are just certificate courses, while others lead all the way to a Master degree. Although some of these distance-learning courses entail high tuition fees, Massive Open Online Courses (MOOCs) have also become common in Germany over recent years. Technische Universität München (TUM Munich) began offering globally accessible free online courses early on and is now considered a pioneer in this field.
How can you participate in digital learning courses based in Germany?
There are many other options in addition to the opportunities mentioned above: for example, oncampus. This 100% affiliate of Technische Hochschule Lübeck offers the pooled knowledge of over 150 professors – not only for part-time degree courses for working people, but also for advanced training programmes, flexible self-study courses and free MOOCs. There is also an increasing demand for "blended learning" programmes that combine face-to-face teaching and online courses. This system is also used by the University of Hagen, a distance-learning university that is also Germany's largest higher education institution with over 76,000 students.
Which courses are available independently of universities?
Several German MOOC-providers offer a very wide range of different courses. One of the best known is a platform called iversity. There, for example, professors Naika Foroutan and Irene Bloemraad offer a course on the understanding of diversity and integration in Europe. The Hasso Plattner Institute (HPI) in Potsdam focuses especially on informatics with its openHPI platform. Its course participants can improve their Internet skills in very concrete ways with programmes on Web technologies or data protection in social media.
You would like to receive regular information about Germany?
Subscribe here: