A training concept 
moves across the globe
Finnish trainee Toni Tirkkonen is in Germany for four weeks, gaining experience under the Erasmus+ programme.
05.07.2016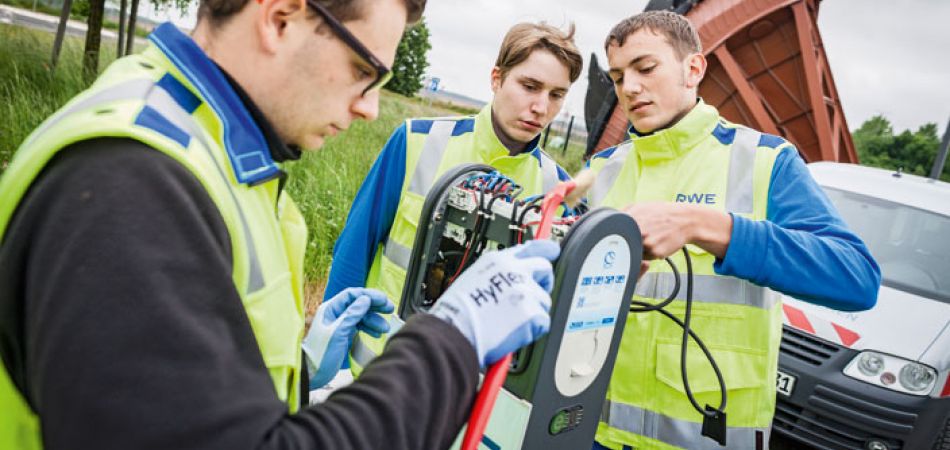 From Kouvola to Kerpen – 
on the road with Erasmus+
Three young men are bent over an opened-up charging point for electric cars in a car park adjacent to an open-cast mine in the Rhineland. Wearing overalls and protective gear, they are rummaging around in 
a red tool bag, absorbed in finding the fault. Toni 
Tirkkonen is looking curiously over the shoulders of his colleagues Timo Amend and Florian Grosch. The young Finn is employed as an intern by the energy company RWE. Back home, he has almost finished his training as an automation engineer. He's in Germany for four weeks, gaining impressions of a different working environment – and discovering some new things, not only when examining a charging point: "I've seen some parts like these before in my training, but never a complete system."
Just turned 18, in the middle of your vocational training – and then a stay abroad? For many trainees, that's still an unusual idea. And yet the European Union funds such internships under its Erasmus+ programme – similar to the popular student exchange programme. There are no exact figures on how many trainees come to Germany under this scheme. Overall, though, more and more young people are taking advantage of the programme, according to the Federal Institute for Vocational Education and Training (BIBB) in Bonn. The number of German trainees spending time abroad under the Erasmus+ programme – possible are stays ranging from two weeks to 12 months – has, it states, nearly doubled within five years, to more than 18,000 in 2015.
Nearly a third of them did their internships in the United Kingdom. Other popular destinations are Spain, France and Ireland. In Tirkkonen's home country alone, some 700 trainees have taken advantage of the programme. What motivated them was the chance to gain experience, discover new things and improve their own career prospects. That was Tirkkonen's reason, too: "I've always wanted to work abroad, and in the third year of my training I had the opportunity to do so."
Back home in Kouvola, half way between Helsinki and the border with Russia, Tirkkonen is completing his training in a small firm with four workers. In Germany, he is working at an RWE service workshop in Kerpen near Cologne. It employs a staff of 15 – 
engineers responsible for 300,000 electricity meters, 50,000 gas and water meters and 550 district heating meters as well as charging points for electric cars. Some of the technology is new to Tirkkonen, who has also had to adapt to different working methods. At RWE, lists and protocols are part of standard pro­cedures. "Here, everything's written down and documented. In Finland, we simply get on with the job."
For an exchange to go as smoothly as it does here, there must also be well-functioning communication between companies and vocational schools. The Adolf Kolping Vocational College in Kerpen is committed to Euro­pean dialogue and has gained a certain amount of experience in the exchange of apprentices. Twenty trainees from the college have recently taken advantage of the opportunity to spend time abroad – and, conversely, numerous international trainees have spent time in the Rhineland. The college acts as the interface between the different companies, dealing with the organisational side of things – ensuring, for instance, that Tirkkonen found a small apartment to rent for his stay.
He has a few months to go before completing his training in Finland, then he has to report for military service. Later, Tirkkonen wants to study engineering – and then, after gaining some practical experience, return to work as a teacher at his current vocational school. And what if, at some point, students ask him if it's a good idea to do an internship abroad? "I'd def­initely recommend it," he states emphatically. ▪
Manuel Heckel