The first digital school
Germany's first digital school is being developed in Saarbrücken.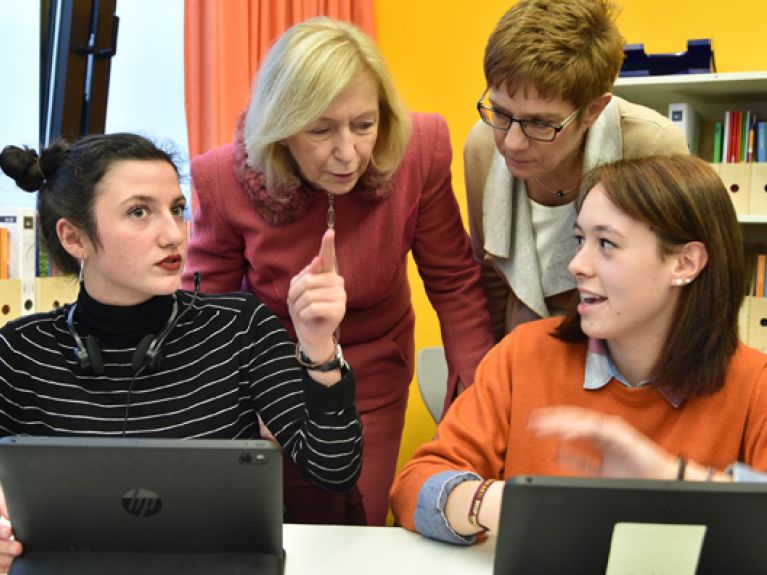 Fast internet throughout the school, interactive whiteboards, cloud services and virtual reality: this is all part of everyday life in a smart school. In mid-November the Federal Minister for Education and Science, Johanna Wanka, opened Germany's very first smart school, together with the Saarland's Minister-President Annegret Kramp-Karrenbauer. Over the next five years Bellevue comprehensive school in Saarbrücken will be developing a 'digital school' pilot project with an efficient digital infrastructure, the appropriate educational concepts and further training opportunities for teachers.
"The example of smart schools illustrates how digital learning can function successfully. A part of the future is within our grasp," said Ms Wanka when she visited the comprehensive school during the 10th IT Summit in Saarbücken. "School students learn how to understand digital technology and use it cleverly. It's the best equipment available to shape your own life in an increasingly digital world." Ms Wanka stressed that the development of a digital school must also include constructive concepts for teaching staff, "so that they can inspire and promote school students with new learning aids and methods."
Efficient digital infrastructure
The DigitalPakt#D was presented in October 2016 in the framework of the 'educational offensive for a digital knowledge society' strategy. It is a joint undertaking launched by the Federal Ministry for Education and Science and the federal states to create efficient digital infrastructures for schools over the next five years. "Digital education starting with school and progressing to lifelong learning can become a success story in Germany if we bundle all of the strengths and resources," says Ms Wanka.
The types of potential digital media actually have for learning were demonstrated by the Bellvue comprehensive school's learning laboratory at the IT Summit. In addition to interesting experiments, the main focus was on networked learning. School students, both at the venue and connected via the smart school, told Federal Chancellor Angela Merkel about their experiences in the world of digital learning.
The 'school cloud' concept was also presented in Saarbrücken. It demonstrated how digital learning and teaching options can be made available and shared across schools. In 2017, following the concept development stage, a pilot project will be put into practice at schools belonging to the MINT-EC association which promotes centres of excellence in mathematics and natural sciences at schools.