"Finding good solutions more quickly"
Germany and its science policy 2023 – an interview with Minister Bettina Stark-Watzinger on the year's major themes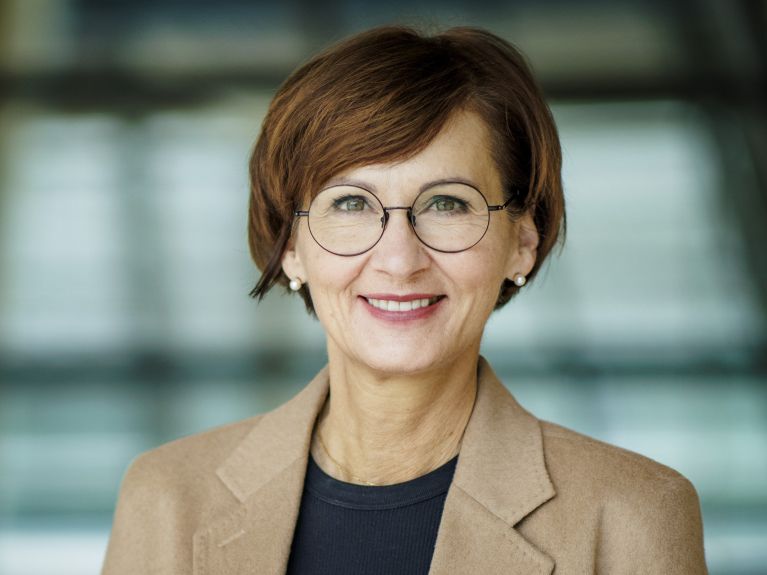 Minister Stark-Watzinger, what are the key themes and tasks facing science and education in the upcoming year?
We're living in challenging times: After the pressures from the Covid pandemic, plus the Russian war of aggression against Ukraine and its consequences, we are now facing numerous additional tasks. We need to reduce dependencies and strengthen our own international competition, especially with an eye on new threats. In future it will be crucial to find good solutions more quickly to any urgent issues, and to apply the solutions directly. The progress that we managed to achieve during the Covid pandemic, for instance developing a test procedure and vaccines in record time, should also be possible in the case of other challenges, such as climate change.
That's why we are backing research and innovation, for instance in new energy technologies, green hydrogen and fusion. And we also want to place an emphasis on the foundations of our values in the field of digital change by utilizing the opportunities of artificial intelligence better, and advancing quantum science and technology.
Which new directions will be necessary in 2023?
Education, research and innovation are the essential foundations for economic, social and technological progress. But the shortages of skilled workers are endangering growth and prosperity in our country. Without sufficient skilled people we will be unable to cope with such major challenges as the digital revolution or the fight against climate change. For this reason we are paving the way for a simplified labour immigration programme and creating attractive working conditions and career paths in Germany. On the other hand we are providing strong impulses throughout the whole education chain, from kindergarten onwards, and especially in MINT education. This is because the lack of MINT specialists can endanger our innovative potential. In addition to this, I am especially interested in ensuring that, in the future, the educational success of young people is no longer so strongly dependent on their social background. And I am also aiming to strengthen both vocational and academic education.
What needs to be done at an international level in these areas – and which role can Germany play in this respect?
We are focusing on European and international cooperation in education and research, and we are especially interested in scientific freedom. We will be strengthening value partnerships which will enable us to work closely with mutual trust and confidence, especially in sensitive areas, such as supply reliability or technological sovereignty. In the EU and G7 we are working together with our partners to promote freedom in education and science worldwide. We will continue making Germany an attractive location for research and development, particularly in view of the shortage of specialist workers. We are also aiming to increase the proportion of international students and researchers in Germany by improving the offers and framework conditions, for instance through the excellence strategies or the Research in Germany initiative. International talents are a great benefit to our universities and research institutions, and this is an area we want to improve even more.
Bettina Stark-Watzinger is Federal Minister of Education and Research
You would like to receive regular information about Germany? Subscribe here: