The long path 
to Luther
Martin Luther was a traveller – he left his mark in many places. And yet the Reformer has always remained something of a mystery.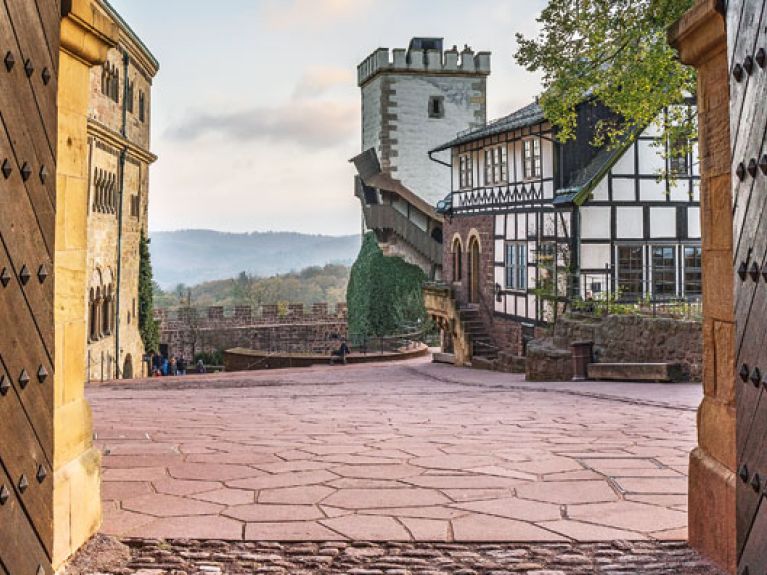 Standing in the Luther Room with his wife and children, the father sighs emphatic­ally. "I'll explain it again one last time." 
He has already described several times where you have to look to see the supposed ink mark on the wall, but his son still hasn't found it. "All right, can you see the wooden beam? You look along that right up to the top – and then a little to the right." There it is: the spot that fits in with the famous anecdote. The devil is said to have appeared to Martin Luther here in his study at Wartburg Castle and the Reformer responded by throwing a bottle of ink at him. The boy nods with satisfaction – and the father is discernibly pleased with his graphic history lesson. But now they have to move on because the next visitors are already waiting outside the small room.
Following in Luther's footsteps is what attracts many people to Wartburg Castle near Eisenach and to other places where the founder of the Reformation lived and worked. Next year interest will be especially great: then 500 years will have passed since Luther published his Ninety-Five Theses. It was an act that brought tremendous changes for the church, for ­other areas of life and for Luther himself, who was from then on considered a heretic. Because he refused to recant at the Imperial Diet of Worms in 1521, his supporters staged a kidnapping and brought him here, to the safety of Wartburg Castle.
A wooden cart like the one with which Luther then rumbled through the dense forests will stand in the castle courtyard in 2017. "We have found a special carpentry shop that will reproduce it," says a pleased Günter Schuchardt. He has been "castle captain" here for more than 20 years. The title is more of a historical idiosyncrasy than an appropriate professional designation – in any event, the reserved man with glasses does not have a very military look. The fact that he is probably Germany's only castle captain is rather appropriate nevertheless. After all, his job would not be very adequately described by the title "museum director". Schuchardt is also guardian of a UNESCO World Heritage site, cultural mediator and tourism expert.
As such, he likes to point out that Wartburg Castle attracts the highest number of visitors among the numerous Luther memorial sites: roughly 350,000 come every year, more then one sixth of them from abroad – above all, from the USA, the Benelux countries and Eastern Europe. Many people travel to Thuringia and walk up to the castle above Eisenach that is so closely bound up with German history – not only, but mainly because of Luther. He lived here for nearly a year under the name "Junker Jörg" and translated the New Testament into German in less than eleven weeks.
Captain, how do you make the importance of this work tangible? Schuchardt refers to the national special exhibition that is being planned for Wartburg Castle in 2017 – as one of three major Luther shows in Germany. He tells us about unique historical exhibits and symbols of the time produced using 3D printing. But he also wants to ask about Luther, to question normal people: they are meant to describe what the great Reformer means to them today in video interviews. Schuchardt is interested to see with the results will be. "One thing is clear: each generation creates its own picture of Luther."
That comes as no surprise. If you try following Luther's footsteps you soon notice how difficult it is to gain a comprehensive, realistic impression of this man. You have to travel to a large number of places – primarily in Thuringia and Saxony-Anhalt – and collect many pieces of the puzzle. And then, at the end, you discover that they don't fit together.
Jigsaw pieces of this kind can also be found in Erfurt, some 50 kilometres from Wartburg Castle. This is where Luther began his studies in 1501. Several years later, while he was in fear for his life during a thunderstorm, he swore to become a monk. Today, the August­inian cloister that he then entered lies like an island of tranquility surrounded by the hustle and bustle of the old town. Where tourists now stay overnight and business people hold conferences, Luther spent three years living a strict monastic life. And as a novice Luther is said to have been especially strict – not only with others, but also himself – when it came to observing the rules. How does this fit in with the fun-loving Luther who enjoyed convivial get-togethers, who did not only drink beer for fasting purposes and whose house was always a busy hive of activity?
That is the Luther you meet in Wittenberg. He taught in the town on the Elbe and completed his doctorate in theology here. It is also where he married Katharina von Bora, a former nun. The house in Collegienstrasse where they lived with their six children is one of the main destinations for visitors to the town. Many layers of time have settled over the family's life there. Restorers have nonetheless succeeded in preserving something. A national special exhibition will also go on display at the Luther House in 2017.
Another Luther site at the other end of the old town is again presenting itself in the best light: All Saints' Church, where Luther is said to have nailed his Ninety-Five Theses to the door in 1517. It has been extensively restored in the run-up to the jubilee. Uwe Rähmer planned and directed the work in the interior – a project that took roughly six years and demanded historical accuracy and patient research. "When anything had to be replaced, we made it on the basis of the sources," says Rähmer, who consulted old building journals, among other things.
You can discern what restorer Rähmer associates with Luther beyond this church if you visit the website of his workshop in Grossröhrsdorf, Saxony. Rähmer has installed another view in front of the home page. "Just speak up," he writes there, condemning the attacks on refugee hostels that have recently occurred in the region. This is reminiscent of Luther's statement "Here I stand. I can do no other" – and yet here comes the very next contradiction. You see, Luther does not only stand for fearlessness, independent thought and a certain kind of moral courage – Luther was also an anti-Semite.
The contradictions in the Reformer's character also occupy Astrid Mühlmann. "Luther was a very ambiva­lent person," says the executive director of the project office for Luther 2017. The lawyer could easily hold her own in any historical debate on the subject. Amusingly and convincingly she talks about the Luther phenomenon, about his influence on the language, the social system, the culture. She persuasively describes Luther as an early marketing genius and the Reformation as the first great media event.
In Germany and beyond, Mühlmann is now promoting the events for the jubilee year – recently even at a Catholic conference in Leipzig. She says the most she noticed there was an initial sense of irritation among some of the participants. Overall, however, she experienced great openness. Today is actually similar to the time of the Reformation: "There's this one man who strongly polarises opinion – and many people are interested in him." ▪