"One of my best decisions"
Learning German has been worthwhile for Siyana from Bulgaria. She talks about the career opportunities that have opened up for her in Germany.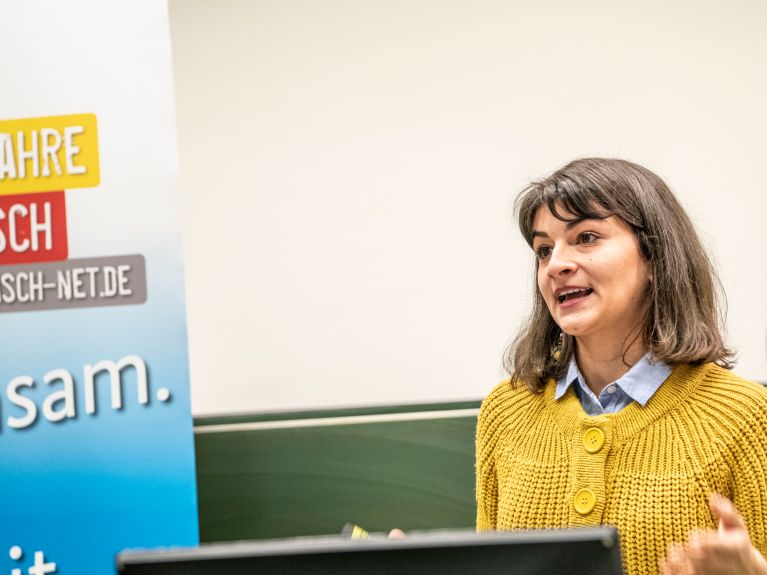 Siyana Dimitrova's enthusiasm is infectious: "I would like to tell others how wonderful it is to study in Germany and how many opportunities that opens up. And I'd also like to prove that you really can make it."
Siyana herself is a good example of why it is worth learning the German language and making use of the opportunities that offers. The young woman learned German at school in her home country Bulgaria and then studied journalism and media education in Magdeburg. Now she is active as a study ambassador at Magdeburg-Stendal University of Applied Sciences and helps school-leavers from outside Germany make an easier start at the university.
Long way to school to learn German
"Learning German was one of the best decisions in my life," says Siyana today. "Although at the time friends often asked me why I took all that trouble." Every schoolday for five years she undertook a 50-kilometre commute to the Foreign Language High School in the town of Montana. The school belonged to the global network of PASCH schools. Siyana achieved her goal: the German Language Diploma (DSD).
From 9th grade onwards Siyana took every opportunity to visit Germany as part of a student exchange. "It was always important to me to apply what I had learned and gain new impressions of the country. That motivated me to make even greater efforts."
The big chance: a DAAD scholarship
Siyana wanted to study in Germany although she knew that would be very expensive for her family. Then a big opportunity presented itself at the end of 12th grade: the chance of a scholarship from the German Academic Exchange Service (DAAD). Siyana applied, passed and began studying in Magdeburg in 2012. She is now the proud holder of a Bachelor in journalism and a Master in media education.
Siyana continues to have links with the PASCH schools network and the DAAD as an alumna. At Magdeburg-Stendal University of Applied Sciences she developed a "study ambassador" concept. She aims to make it easier for school-leavers to make their way in Germany by providing first-hand tips and advice. "I really like doing that because I missed that kind of support then. And it's also a chance for me to give something back."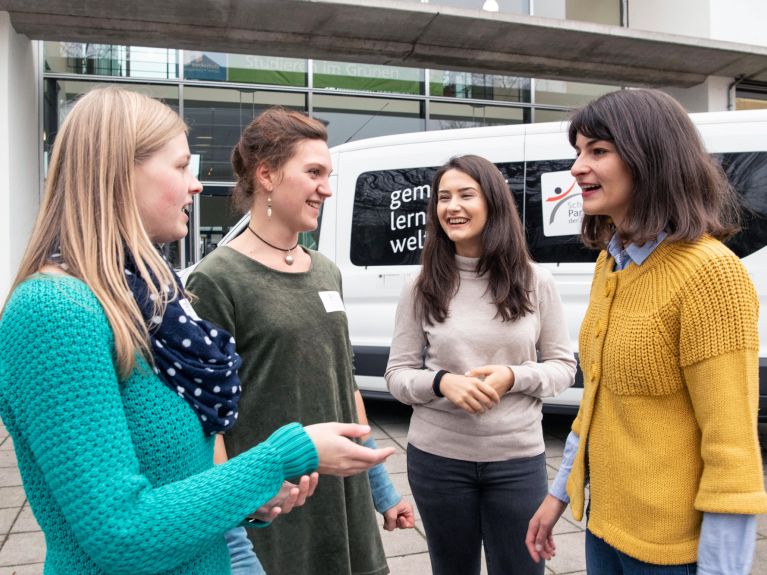 Voluntary service for kulturweit
Giving something back is also her motive for becoming involved in the kulturweit voluntary service, for which she is spending six months at the DAAD information centre in Budapest. "I definitely wanted to go to the DAAD because their scholarship made my success possible." We've come round full circle: Siyana is now contributing, among others, to a campaign called Deutsch.Karriere.Erfolg. This initiative by the embassies of Germany, Austria and Switzerland promotes German as a foreign language.
You would like to receive regular information about Germany? Subscribe here: