Learning German, speaking German
Learning German is popular, and the German Language Diploma and other such certificates are much in demand. There are good reasons for this, for example, the economic power of Germany.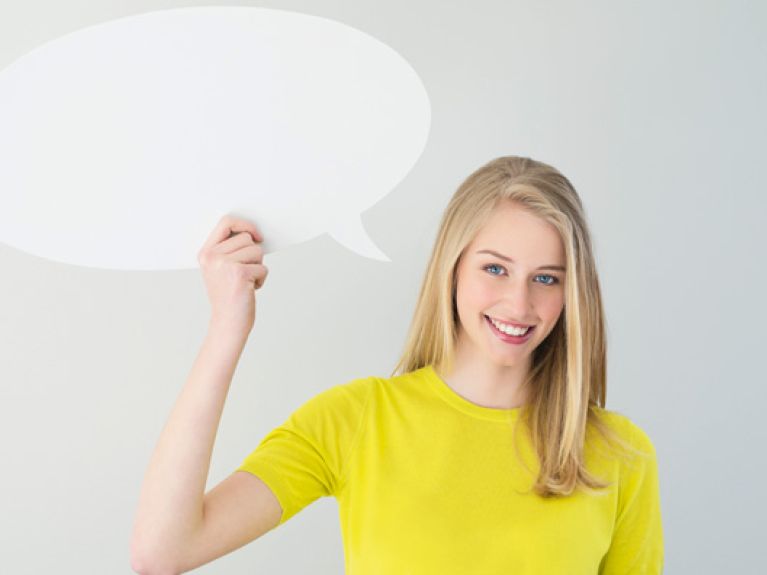 THE GERMAN LANGUAGE DIPLOMA
The German Language Diploma of the Conference of Education Ministers (DSD) is the most widespread German language certificate gained in schools. It can be offered at German Schools abroad and at schools forming part of the national education systems of partner countries. By including the diploma in the school curriculum, a more in-depth study of German culture and literature is possible, plus an introduction 
to the German learning culture, which is characterised by project-oriented and autonomous learning. Every year more than 56,000 students in over 65 countries sit the DSD examination. DSD II is regarded as proof of sufficient com­petence in the German language to be able to study at a German higher education institution.
LEARNING GERMAN AT THE GOETHE-INSTITUT
Anyone who did not learn German at a German School abroad or a DSD School can look for something suitable in the extensive range of courses offered by the Goethe-Institut around the world. As with the DSD, the different levels of Goethe-Institut certificates correspond to those of the Common European Framework 
of Reference for Languages (CEFR). The highest language certificate, Goethe-Zertifikat C2: Grosses Deutsches Sprachdiplom (GDS), is recognised by German higher education institutions as proof of sufficient competence in the German language, like DSD II.
ECONOMY
"The attractiveness of a language as a 
foreign language depends more on the economic power of the speakers than on the number of speakers," says linguist Ulrich Ammon. "Based on the gross national product generated by all native speakers, German ranks third among all languages," says the former professor at the University of Duisburg-Essen.
Southern Europe is a graphic example of the current economic attractiveness of Germany. There is a great interest there 
in German training models, such as the dual vocational education system. Federal Chancellor Angela Merkel referred to the lack of skilled employees in Germany during a visit to Spain in 2011 and immediately the number of people participating in Goethe-Institut language courses shot up.
SCIENCE AND CULTURE
Until the first half of the 20th century 
it was hard to imagine the international 
scientific community without the German language. Foreign researchers in different fields had to learn German if they wanted to be able to join in debate. That is no longer the case. Today English is the dominant language in research journals, although German continues to be of lasting import­ance in the humanities and the social 
sciences, not only because of classics like Hegel, Nietzsche or Marx. Only recently the skateboarder-philosopher Markus Gabriel, at 29 the youngest person to be appointed 
a philosophy professor in Germany, drew considerable attention with a bestseller. The same applies to literature and music. Young German authors like Nora Gantenbrink and Saša Stanišić are writing feverishly from the perspective of their gener­ation. And music lovers are finding every reason to learn German in Deutschrap and in Rammstein, alongside Mozart arias and Schubert songs.
WEB
The German language is even asserting itself on the Internet. Although the largest proportion of websites worldwide are in English, a proud 55.7% in July 2014, German now takes second place among website languages at 6.1%, followed by Russian, Japanese, Spanish and French.
GERMAN AS NATIVE AND SECOND ­LANGUAGE
Some 130 million people worldwide speak German as their mother tongue or second language. The group of second language speakers includes, for example, people in Germany with a migrant background who speak their parent's language at home and German in everyday life. An estimated 100 million people speak German as a foreign language.
German is an official language in seven European countries: Germany, Switzerland, Austria, Luxembourg, Liechtenstein, Belgium (Eastern Belgium) and Italy (South Tyrol); it is a recognised language of minorities in eight European countries: Belgium, Italy, Denmark, Poland, Romania, Slovakia, Czech Republic and Hungary.