How learning German changed my life
Overcoming prejudices, making friends and getting good jobs – PASCH students explain why learning German pays off.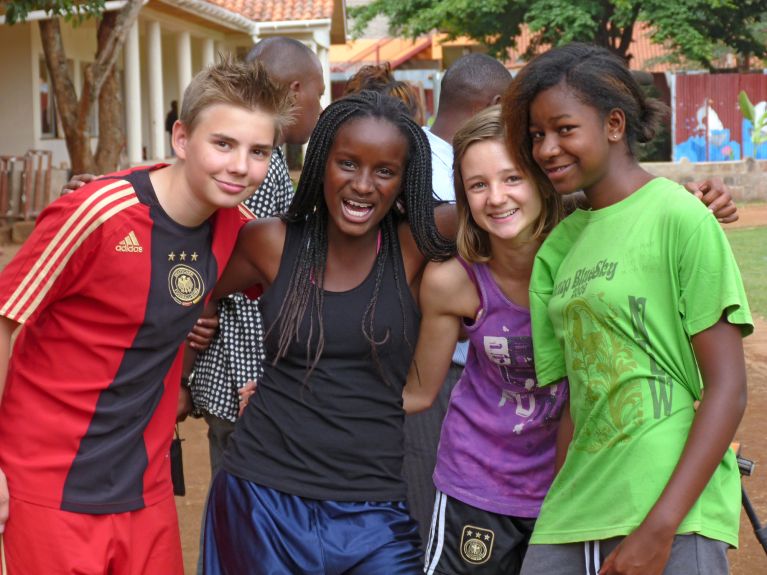 Learning German is worth it! And it is not as difficult as many people still think. This is demonstrated by over 750 contributions submitted by PASCH students from all over the world as part of a competition for the 10th anniversary of the initiative called "Schools: Partners for the Future" – or PASCH for short.  They produced videos, drew comics or painted pictures. The results are as impressive and varied as the students' reasons for learning German. The winners will now be able to apply their knowledge of the language during a trip to Berlin. As if there isn't incentive enough!
Learning German builds ties
"German is like a key to a new world for us," say Mamatkulov, Aleksey, Remsi, Sevinch and Azizbek from Samarkand in Uzbekistan. They won the video competition as a team. Studying together taught them about German language and culture as well as subjects like environmental protection. They also made new friends – among classmates, PASCH students in other countries and young Germans: "For us, German is the heart of our family!"
Learning German improves career prospects
How has German changed our lives? Devansh, Siddhant and Ayush from the Lotus Valley School in Noida, India, received large numbers of answers to this question from fellow students: learning German has improved their career prospects, opened up the opportunity of studying in Germany, overcome prejudices and even changed eating habits.
Learning German prevents misunderstandings
Kissing and sneezing can be embarrassing, as José Preamp, Samadhi and Luke Evan from La Serena German School in Chile know all too well. Why? Because Chileans expect a welcoming kiss when they meet, while Germans expect you to say "Gesundheit" after a sneeze. "It is easier to put yourself in a foreigner's shoes when you understand the culture."
Dolls awaken curiosity about Germany
Marija's curiosity was roused by two dolls that her father brought back from a business trip to Germany. Learning German has been part of her life ever since. The 14-year-old student from Novosibirsk in Russia has already visited Germany twice, is preparing for her B1 language exam and improving her language skills in an exchange with a girlfriend in Dresden.
Fascinated by German fairy tales and palaces
Studying German language and culture has helped Alina from Kokshetau in Kazakhstan to put together one jigsaw piece after another to complete a surprising picture of Germany with fairy-tale figures and historical buildings.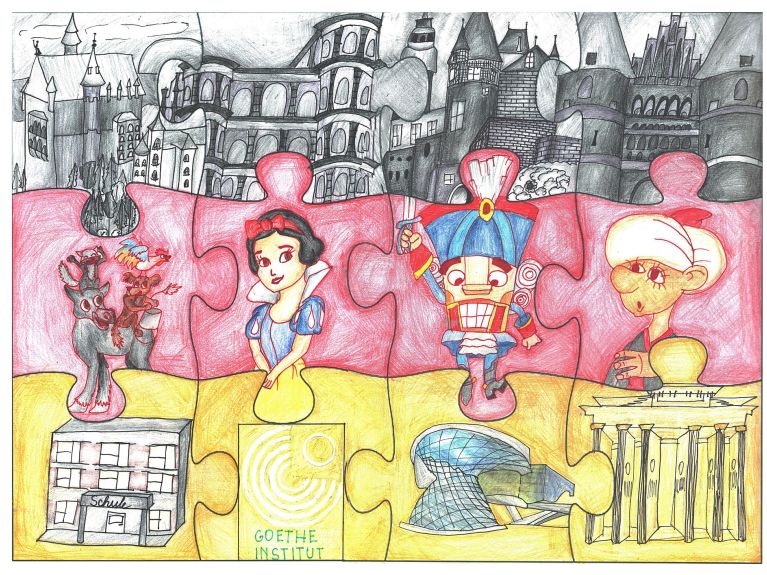 German lemon cake as a recipe for success
Cloudia, Hana Ken and Rachma from Indonesia won the video competition for PASCH alumni. They made a film about a former PASCH student who inspired her friends with German cake recipes, received mail from alumni all over the world and found a job because the human resources manager appreciated something they had in common: knowledge of German!