Engaging in exchange with society
Medical research: Isabel Schellinger works as a doctor and is the founder of a science-based start-up.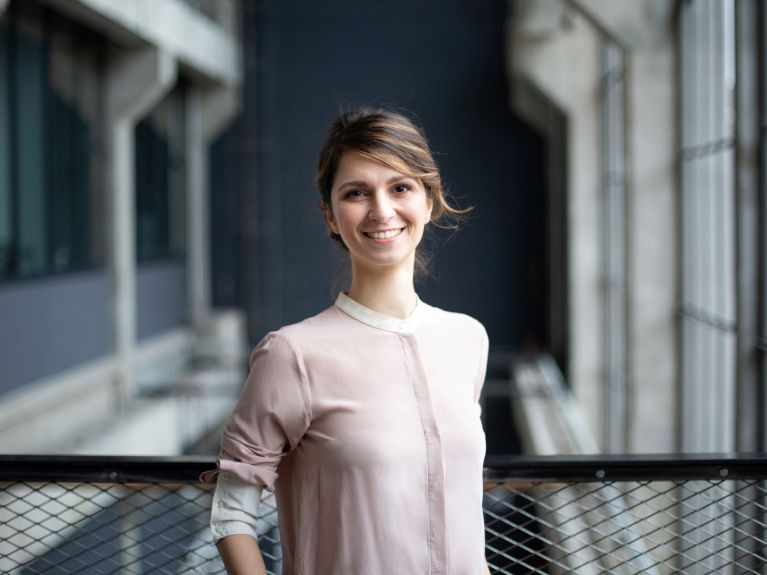 Isabel Schellinger is one of Germany's outstanding young researchers. A doctor and the daughter of a German and an Iranian, she has already won several awards, some of them international, and has founded a start-up.
Dr Schellinger, you work as a doctor at the University of Leipzig Medical Center. How has your work changed as a result of the coronavirus pandemic?
Some of my colleagues, such as those in the intensive care units and indeed the nursing staff, have been much more affected than I have, but generally the pandemic does of course mean an increased workload and has radically changed organisational processes. It is my impression that we have fairly considerable resources at our disposal at the Medical Center, and that helps. Since the pandemic began, I have encountered very many people in my work who are greatly interested in medical research. As the founder of a research-based start-up I find this particularly pleasing.
Your company, Angiolutions, specialises in developing innovative treatment tools for vascular diseases. What prompted you to found the business?
After completing my PhD in nephrology at Universität Erlangen-Nürnberg I went to do research at Stanford University in the US, at a laboratory for vascular medicine. I got to know my German colleague Uwe Raaz in Stanford and worked with him on the interface between biomechanics and molecular biology. This is how the idea for Angiolutions came about: among other things, we develop a vascular implant that can stabilise the abdominal aorta in the area of an aneurysm and can prevent it from rupturing, which can otherwise prove fatal.
You are also a member of the Junge Akademie and have sat on the board there since 2020. Why is this engagement important to you?
The Junge Akademie brings together academics from all kinds of disciplines in diverse projects. Music for example is brought together with neuroscience, and history with art. How best to support and fund young researchers in Germany is also something that can best be discussed jointly. Not least in view of the coronavirus pandemic, I also believe it is very important for science and society to engage in greater exchange, and this is also an objective of the Junge Akademie.
You would like to receive regular information about Germany? Subscribe here: