Young companies, great potential
Successful at digitalization: start-ups from Germany are causing a stir all over Europe. Here are three examples.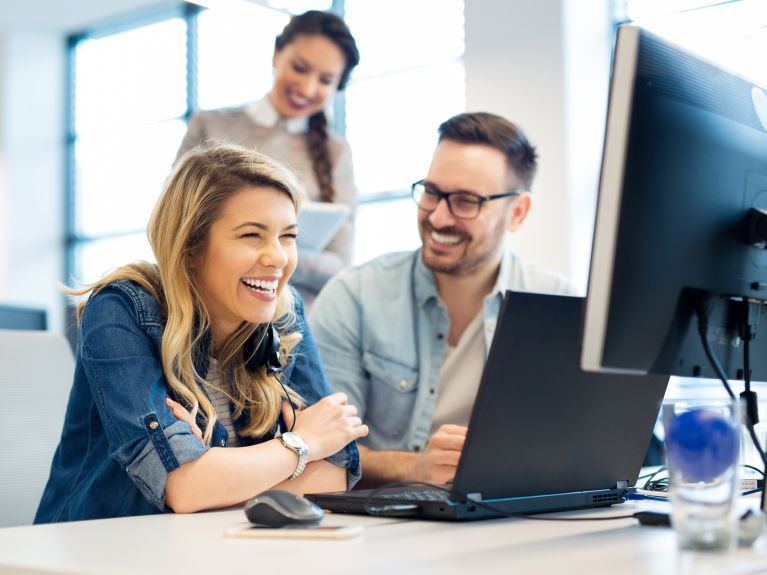 The Europe-wide investor network Tech Tour lists eleven German companies in its current selection of the 50 most promising start-ups. We present three of them here along with their successful digital ideas.
Babbel: the language professionals
The European Structural Fund (ERDF) was one of the first sponsors of the Babbel app, which has since become the world's best-selling digital language-learning application. The e-learning platform offers 14 languages. The users' learning progress is stored in the cloud, so they can easily continue practising on different devices. The Babbel team are also international: over 750 employees from more than 50 nations work for the company in Berlin and New York.
IDnow: the security experts
The Munich-based start-up IDnow offers its secure digital exchange technology to companies worldwide. Banks and their clients are among those who benefit from this when they use the IDnow process for fast identity verification via the online video chat; IDnow has also made advances in automated identification in recent years. The start-up is a member of a new working group of the European Telecommunications Standards Institute (ETSI), which aims to develop standards and guidelines for electronic signatures and related trust services. During the Corona crisis, IDnow has recently been in talks with the British government, because the IDnow technology could help identify patients who have recovered.
Zenjob: the job finders
Zenjob's business model is currently under pressure: the Berlin startup finds jobs for students – no easy task during the Corona crisis. But Zenjob has some good technology: students receive job offers in real time via an app and can also apply direct for specific shifts, for example in catering or the logistics industry. This makes the company attractive for investors even in the exceptional Corona situation. In the midst of the crisis, the start-up has completed a financing round led by a Swiss fund amounting to 27 million euros.
You would like to receive regular information about Germany? Subscribe here: