Start virtually and then continue studying live
Studying abroad despite the corona pandemic: the opportunities for spending an exchange semester in Europe – and alternative options.
Gunda Achterhold / 27.10.2020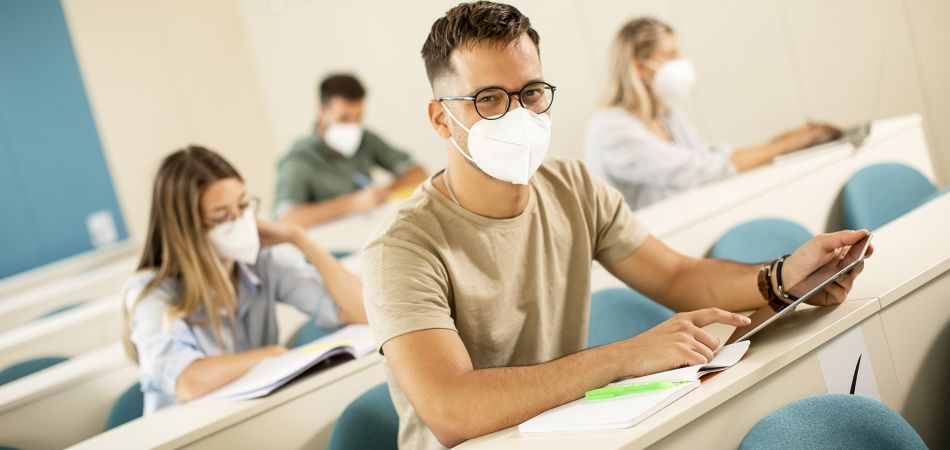 Studying or spending a semester abroad enables students to get to know other countries, meet interesting people and experience everyday life in a foreign environment – and for many young people it is now an integral part of their higher education. At the moment, however, the corona pandemic is making academic exchange difficult. Six questions and answers show what it is currently possible inside Europe.
The corona pandemic is now making it difficult for students to gain international experience in Germany or another European country. Where can interested students get advice?
The immediate contact partners are the departments and the international office at the student's own higher education institution. "Interest in a stay abroad remains unbroken," observes Ingrid Lange, Director of the International Centre at the Technische Universität (TU) Bergakademie Freiberg. In light of the renewed increase in the number of travel warnings, however, planning is difficult. "But funding organisations like the DAAD are responding flexibly and are also supporting students if they have to return earlier than planned." Lange also expects significant changes lasting beyond the corona pandemic: "International exchange will be far more strongly characterised by mixed forms of study involving in-person phases and virtual formats in the future."
Which new models of exchange are available?
For the 2020/21 winter semester the EU is broadening its Erasmus+ programme to include virtual and hybrid forms of mobility. What is new here is that a study programme or internship can begin digitally and – if possible – continue with in-person attendance. The advantage of this is that in the event of new restrictions because of the corona pandemic the stay can be shortened and the exchange completed virtually. Breaks are also possible between the virtual and in-person phases of academic mobility.
Are purely virtual exchange formats also being offered?
Yes. For example, Freie Universität (FU) Berlin and its partner universities in the Una Europa network have launched a pilot project to promote virtual mobility within this European alliance: the Virtual Mobility in Emergency initiative offers interdisciplinary online courses for which students have been able to apply within the Erasmus+ framework. Academic work is credited at the home institution. "This programme has enabled us to reach students who felt they no longer had a chance of spending a semester abroad in the present situation," explains Dr Herbert Grieshop, Director International Affairs at FU Berlin. The project was launched in a very short space of time and there are plans for its expansion. "We see it as a means of also increasing mobility after corona."
Can you receive Erasmus funding if you study from home?
If you attend online courses abroad or begin an internship from home, you will gain Erasmus student status – and, as a result, also receive a free language course, for example. However, you can only receive the mobility grant for living costs if you actually go abroad.
Is it worth going abroad to study online?
Universities all over Europe have largely changed over to digital teaching formats. Hannah Potthoff has now been studying history at Università Cattolica del Sacro Cuore in Milan for a month. She practically never visits the campus, and international students like her are excluded from the few in-person classes. However, the 25-year-old German knew that she was letting herself in for a largely digital semester: "Basically the situation is like in Berlin. However, if you don't know a university and have hardly any opportunities to get to know other students you do feel rather left to your own devices." In her courses she is studying with students who are sitting in front of computer screens in France, England and China. The Master student mainly finds personal contacts through the Erasmus Student Network (ESN), which does makes many things easier.
Should students postpone their exchange semesters?
Nobody knows when the situation will improve. Obviously, the space available at universities is limited, and this will probably remain the case for some time. That is why experts advise young people to accept virtual and hybrid mobility programmes, because ultimately students only have a narrow time frame in which they can realise a semester abroad.