Caring for other people
Careers that will remain sought-after in the future: discover here how important care will be and why a university course can be meaningful.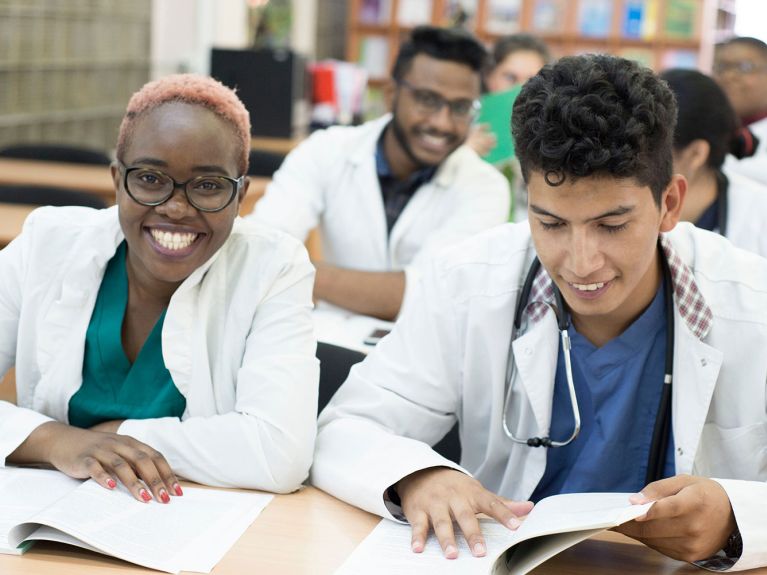 Professor Renate Heese of Zittau/Görlitz University of Applied Sciences (HSZG) explains what makes careers in care attractive and why they have a future:
"Care is definitively a career for tomorrow because our society is ageing. And since cases of chronic illness will also rise significantly with the increasing number of older people there will be steadily rising demand for highly qualified care providers. However, our healthcare system also faces many new challenges, such as the consequences of the coronavirus pandemic and IT developments in medicine, care and administration. The traditional career development profile in the care sector will therefore be increasingly superseded by academic care training that will contribute to improving the quality of care provision for the population.
If you enjoy working with people and would like to help shape the future of care, then I highly recommend a university course in care. Important here are not only openness and sensitivity in dealings with other people, but also an interest in academic learning. We advise people to complete an internship in care before beginning their studies. As a rule, the formal entry requirement is a general or subject-related university entrance qualification or the entrance qualification for a university of applied sciences. Admission to university is also possible without a university entrance qualification if a candidate has completed a vocational education programme and has relevant work experience.
As a result of its location at the border triangle where Germany, Czech Republic and Poland meet, Görlitz/Zittau University of Applied Sciences is already internationally oriented and maintains relations with institutions in both neighbouring countries. A degree programme in care is also attractive for applicants from outside Germany; the prerequisite is a good knowledge of German and basic knowledge of English.
Studying at Zittau/Görlitz University of Applied Sciences combines specialist subject knowledge and practical qualification. It takes place at three learning places – at the university, in the care simulation laboratory and in practical care settings. For example, knowledge acquired in the classroom is put into practice on the basis of case studies in the simulation laboratory. Practice-related research projects are also part of the course. Our graduates receive not one, but two qualifications: a Bachelor in care and a professional licence as a registered nurse. It is therefore possible to either immediately begin work or take part in a Master programme, possibly followed up by a PhD.
A wide range of attractive work and career opportunities in care are open to graduates – in traditional areas like hospitals or in outpatient care as well as in teaching, research or administration within the healthcare system at home and abroad."
Prof Dr Renate Heese teaches pedagogy, especially educational and advisory processes in care, at Zittau/Görlitz University of Applied Sciences.