Jobs with a future
Which vocational training programmes and careers have a future? Four trends and two forecasts will help you decide.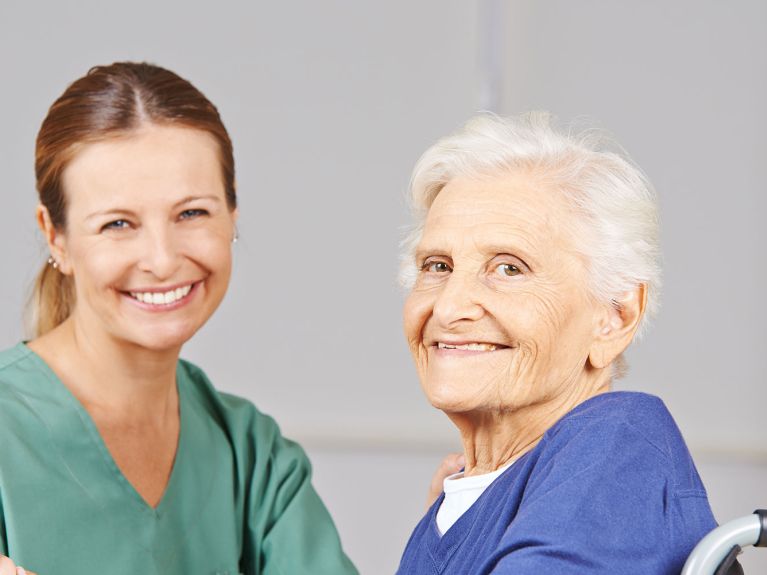 People who begin a vocational training programme today want to have a secure future in the world of work. We outline four trends and two forecasts that are also important for specialists from outside Germany.
Trend 1: Jobs with a future cannot be automated
Digitalisation and automation are a megatrend. Nevertheless, although robots are very good at performing monotonous and repetitive tasks, they are not very good at finding creative solutions to problems or interacting with humans. That is required in engineering, informatics, biotechnology and the skilled trades.
Trend 2: Jobs of tomorrow have something to do with people
Robots cannot provide human warmth and care. Careers in medicine and caring for the sick and the elderly are becoming more and more important. It is estimated there will be 26% growth in this sector by 2035.
Trend 3: Jobs of tomorrow require a high level of training
Because machines are taking over simple and monotonous activities, people's training and qualifications will become increasingly important. As a result, teaching occupations in schools, in vocational and further education and in higher education are of central importance for business. Forecasts predict 20% growth by 2035.
Trend 4: Jobs of tomorrow require less travel
Many jobs of the future will not need people to be as mobile as in the past because they will not be tied to a specific place of work. The number of commuters will fall because more people will work from home.
Forecast 1: Germany needs specialists from abroad
Deloitte, the professional services network, predicts that the number of jobs with a secure future will grow in Germany more strongly than the number of jobs lost as a result of automation. The increase is expected to amount to some 1.3 million jobs by 2035. Skilled staff are already in short supply now, which is why Germany is encouraging immigration.
Forecast 2: These 5 sectors will grow:
– healthcare and medical technology, because the population is steadily ageing and has to be cared for. The healthcare sector is now already Germany's largest employer;

– the chemical and pharma industry and biotechnology, because this sector is so closely bound up with the healthcare system;

– sustainable energies and environmental protection, because they are core elements of the ecological market economy;

– logistics and transport, because the networked economy of an exporting nation is especially dependent on them; and

– mechanical and electrical engineering, because their products will influence everyday life and the world of work in the future.