"We want to learn from other cultures"
The Humboldt Forum is both a place and a global platform for dialogue, says Professor Hartmut Dorgerloh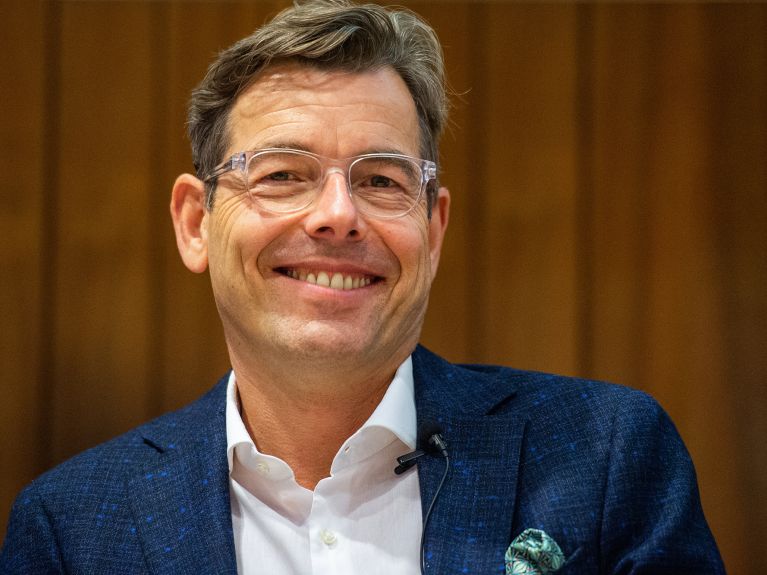 Professor Dorgerloh, what is the Humboldt Forum? The National Ethnological Museum?
The Humboldt Forum is not a museum. It is an open forum, an international dialogue platform for the questions that move us in the world today. Of course, this can also be experienced in exhibitions staged by the Berlin State Museums, the Berlin City Museum or the Humboldt University. However, with our independent department of education and communication, science and research, we invite people to engage with key global issues such as ecology, the North-South divide, poverty, exploitation and human trafficking. Very much in line with the ideas of Alexander von Humboldt: everything is connected with everything else. The Forum will also offer a very broad programme of events, dance, film, music and discussions. So the Humboldt Forum is at least a lot more than a museum.
Does a kind of spirit of Alexander von Humboldt pervade the Forum?
Our name is taken not only from Alexander, but also his brother Wilhelm. Wilhelm was what we would today describe as a great communication researcher. He was concerned with establishing a general understanding of the different ways of seeing the world and documenting them. And Alexander left us with the great obligation to think and work in a networked way, i.e. to cooperate and work together. These are really crucial points for our work. We want to invite people to join in an open exchange. We want to listen and we want to learn from other cultures. This is exactly what Alexander von Humboldt did; in this way he recognized how globally networked and intertwined things are.
Is there anything typically German about Alexander von Humboldt?
I don't think so, not in the sense of exclusively German. Both the Humboldts, Alexander and Wilhelm, saw themselves as citizens of the world. Although both are from here, from Berlin, they both travelled intellectually and physically around the world.
Are you personally particularly impressed by one specific quality of Alexander von Humboldt's?
His incredible diligence and precision, among many other things. Time and again it's fascinating to discover how intensively he corresponded and how closely he looked at things. For him, measuring was essential, to examine everything meticulously, to have exact figures and to understand correctly, and thus to get away from conjecture and move on to scientifically based knowledge.
What do you say to the accusations against the museum part of the forum – that it presents a colonial attitude? There are even demands for the return of exhibits to the countries where they originate from.
The Humboldt Forum was and is a catalyst for an overdue debate on German colonial history. Although this period ended in 1918, it has of course also had an impact right up to the present day. In the ethnological museums there are a number of examples of this, exhibits that are directly related to colonial contexts, including violence. Research must therefore be conducted to find out exactly how the pieces came to Berlin. Wherever there has been injustice, we must talk about returning items. We must research these issues and makes decisions together with representatives of the societies of origin, in other words with the people who now live where these pieces come from. Essentially, this is the task of the State Museums of the Prussian Cultural Heritage Foundation, who have been doing it for years. The Forum is the place where socially relevant questions are discussed from many different perspectives, for example how important the objects are as part of the material heritage, but also the immaterial heritage: enlightenment and knowledge gain in Humboldt's sense, if you like.
Personal data:
Prof. Hartmut Dorgerloh is a monument conservator and art historian. Since 1 June 2018 he has been General Director of the Humdboldt Forum in Berlin.
You would like to receive regular information about Germany? Subscribe here: