Studying without men
Technical studies for female students: find out why some universities in Germany offer STEM courses for women only.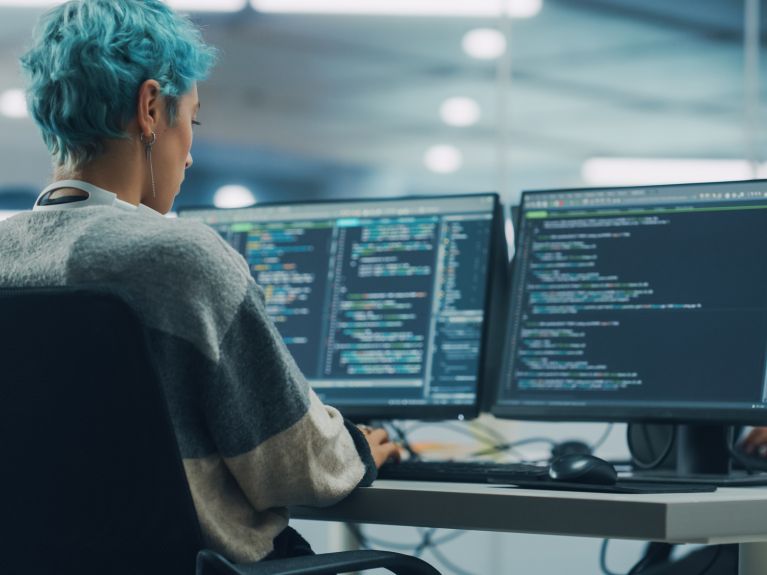 The demand for female engineers, technicians and IT specialists has never been as high as it is today. Although women now make up almost half of university students in mathematics and the natural sciences, they are still rather the exception in technical subjects such as mechanical engineering, computer science and engineering. Some universities in Germany are now offering special courses for women only, in the hope that more women will then venture to take up these subjects. Because many women find it daunting to be one of a few in a degree programme with a large number of men.
Low-threshold entry into computer science and mechanical engineering
At Bremen University of Applied Sciences, women have been able to take the International Women's Study Programme in Computer Science since the winter semester 2000/01. The bachelor's programme has an international orientation - a semester abroad is compulsory - is application-oriented and has a high practical component. From the third semester onwards, female students can also take part in co-educational courses.
The special study programme is designed to make it easier for women to enter the field: no special technical knowledge is required. This is because women often fear that they will not be able to meet the demands in male-dominated fields. The study programme is accompanied by tutorials, which already furnish support at the start of the study. The women's programme in computer science is also available as a dual bachelor's programme with a focus on software development.
Small groups, application-oriented, interdisciplinary
The Berlin University of Applied Sciences has followed Bremen's example and offers a degree programme in computer science and business specifically for women. Women study in small groups that are application-oriented, interdisciplinary and have close reference to practice. They are supported by mentors and tutors. What it's like to study computer science as a woman at HTW Berlin is explained by two female IT students in their podcast Female TechTalk.
There is a degree programme in mechanical engineering for women only at the University Ruhr West. It advertises that it offers female students an environment in which they can develop their personal strengths in small learning groups and a trusting atmosphere with modern technical equipment.
You would like to receive regular information about Germany? Subscribe here: