A typology of Oktoberfest beer tents
Although everyone knows the Oktoberfest in Munich, hardly anyone appreciates the fine distinctions between the different beer tents – a brief typology.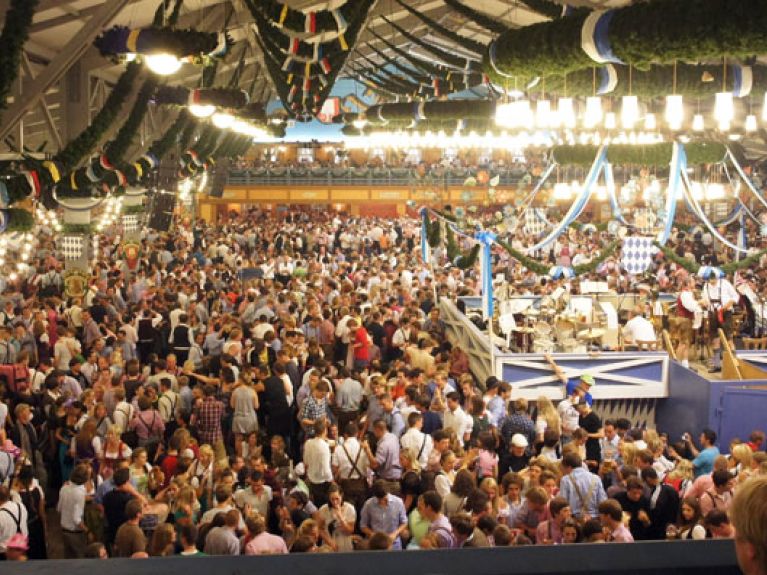 Every year the Oktoberfest begins with the opening of the first beer barrel in Schottenhammel, a tent that is especially popular among students. Visitors are even younger in the Hacker beer tent. And anyone who thinks the Wiesn, the local name for the fairgrounds where the Oktoberfest is held, is only for traditionalists is in for a surprise: Gay Sunday is always celebrated in Bräurosl on the first Sunday of the festival. As a result, the tent has cult status among gays. Roughly six million visitors attend the Oktoberfest every year, many of them from abroad. If you want to swing to and fro with Australian honeymoon couples or young New Yorkers, the best place to go is Hofbräuzelt. This branch of Munich's famous Hofbräuhaus is known all over the world and also the biggest beer tent with seating for 10,000 people.
The Ochsenbraterei and Fischer-Vroni tents are the places to go for foodies. Families feel particularly at home in the rustic Augustiner tent, where a children's day attracts visitors on the festival's two Tuesdays with favourable prices. An informal family atmosphere also prevails in Schützenzelt: a little removed from the bustle, this is where members of Munich's high society and the international aristocracy make themselves comfortable with a few tankards of beer. Apropos high society, the Marstall tent run by the Able family is the major newcomer to the Wiesn in 2014.
Sport also plays an important role at a people's fair in a city with two popular football clubs. The dividing line is quite clear: fans of Bayern Munich celebrate at Winzerer Fähndl, while the lion at the entrance of the Löwenbräu tent attracts supporters of TSV 1860 Munich. In the traditional Armbrustschützenzelt (Crossbowman's Tent) archers attempt to hit the bull's eye as often as possible.
Eventually even the best Oktoberfest day comes to an end when the bars close at 10:30 p.m. However, two tents are open until after midnight for night owls: the Weinzelt and Käfer Wiesn-Schänke, where the champagne flows and a celebrity chef cooks.
Oktoberfest in Munich from 20 September to 5 October 2014