NFL premiere in Munich
For the first time, the National Football League is playing a game in Germany. Five facts about a German-American fascination.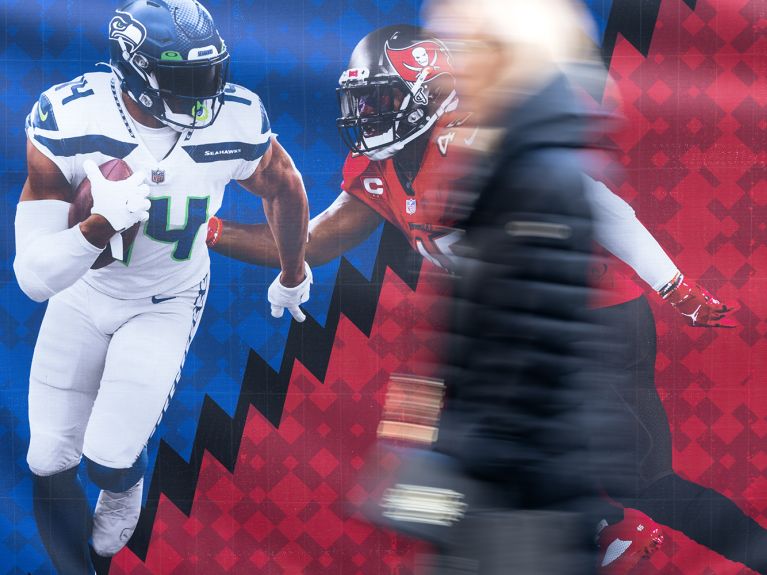 For the first time, a regular-season game of the National Football League (NFL), the US professional league, will take place in Germany: On Sunday, November 13, the Seattle Seahawks will play the Tampa Bay Buccaneers with their superstar player Tom Brady in Munich.
Why is the NFL playing in Germany?
American football is also in vogue outside the USA – and the NFL is using the opportunity to open up new markets in other countries. Games in London, for example, have been an integral part of the seasons for some time. In February 2022, NFL Commissioner Roger Goodell announced that, in addition to three games in London and a match in Mexico City, one game of the new season would also be played in Munich.
Why is Munich the venue?
Roger Goodell emphasised: "We look forward to staging our first game in Germany at FC Bayern Munich's fantastic stadium and to exploring areas of broader collaboration with the Bundesliga." The soccer and football leagues are keen to reach fans across countries, working together to this end. So it's fitting that the opening game will take place in the stadium of Germany's record soccer champions Bayern Munich, which incidentally has had a friendship with the Kansas City Chiefs American football team for some time.
How popular is American football in Germany?
On German television, American football has moved from special-interest to mainstream channels in recent years. And when tickets were offered for the game in Munich, demand was huge. The duel between the Buccaneers and Seahawks has long been sold out. "Three million tickets could have been sold," says NFL Germany boss Alexander Steinforth, talking about the great interest. According to the NFL, there are around 19 million American football fans in Germany.
Are there German players in the NFL?
Yes, even if they are of course a rarity in the American-dominated league. Four players with German roots are currently under contract with NFL clubs. They include two brothers: the German-Americans Equanimeous (Chicago Bears) and Amon-Ra St. Brown (Detroit Lions) play in their teams' offense and have already scored two and nine touchdowns respectively in their still young careers. Sebastian Vollmer is considered the most successful German professional in the NFL, winning Super Bowl rings with the New England Patriots as an offensive tackle in 2015 and 2017.
When will the next NFL game take place in Germany?
In the coming 2023 season, an NFL game may again be held in Munich. If so, it would be the second game in Germany this season. Frankfurt am Main has already been chosen as the venue for the next season; it is also home to one of Germany's most popular American football teams, the Frankfurt Galaxy.