"Munich is family-friendly"
The expat Spomenka lives with her family in Munich. She tells why she feels comfortable there and reveals important links to help get started in the city.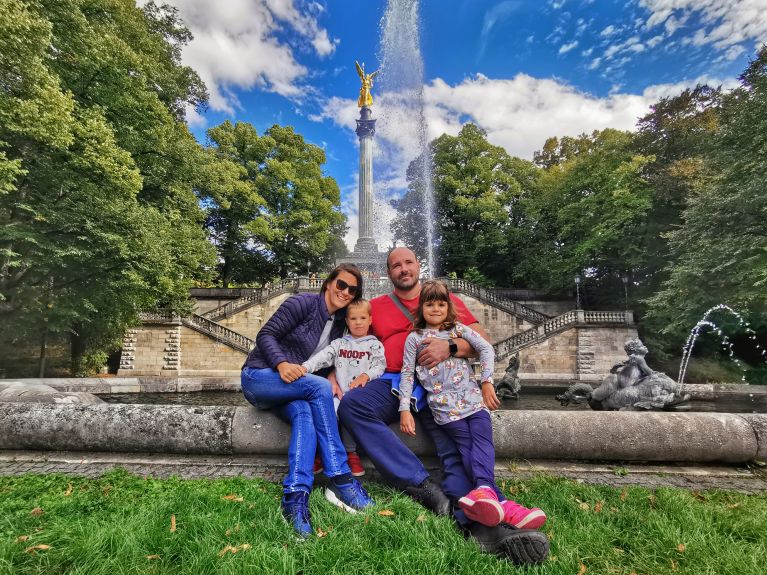 Expat Spomenka takes you on a tour of Munich in our Instagram Story and gives you 5 valuable tips. Check out the Story here.
---
Moving to a new country and starting a new life can always be stressful. If you don't speak the language, are pregnant and have a young daughter, it doesn't get any easier. That was the case with Spomenka Vukojicic from Serbia when she came to Munich in 2016. Find out here how she managed settling in anyway, what tips she likes to share with other expat families, and why she couldn't imagine living in any other city.
Spomenka, when you moved to Germany you were pregnant and already had a young daughter. What was that like for you?
I came to Munich in April 2016 with my two-year-old daughter and my husband, got a good job with an insurance company, and had been here a few months earlier to find us an apartment. Luca was born in September. I've had only positive experiences with German hospitals. I felt really comfortable and in good hands here.
Were there any hurdles you had to overcome during this time?
The time after the birth was a bit stressful. The decision to go to Germany was so spontaneous that I didn't have time to learn the language. My husband worked a lot, especially at the beginning, and I often had to struggle through the German bureaucracy on my own. I learned German only once both my children were in kindergarten – everything has been pretty easy since then. Now I would like to help other people gain a foothold in Germany.
Is Munich a good city for children?
Yes, absolutely. Munich is safe and well organized. I can let my children go to school alone without worrying. The paediatricians here are great, the schools good, and the buses even dip so that it's easier to get on board with the pram. Beer gardens, parks, restaurants – almost everything is geared towards children and families.
How would you describe Munich in three words?
Family-friendly, peaceful, and a little bit boring. But I mean that in the most positive sense. Munich is a big city that has a lot to offer culturally, foodwise and professionally, yet life here is still relaxed.
You would like to receive regular information about Germany? Subscribe here: