Two different versions of Anu's story
Anuradha Doddaballapur has worked in basic research in the Rhine-Main region, but it is in sport that the Indian has made the headlines.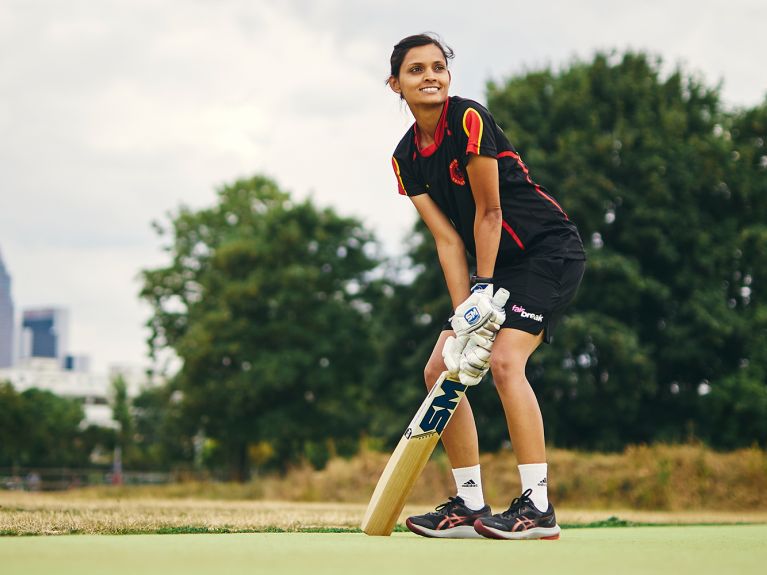 Anuradha Doddaballapur has just come from Frankfurt's exhibition centre. Or to be more precise, from Achema, the world's leading fair for the chemicals, pharma, biotech, energy and environmental industries. She was there to cultivate existing contacts and meet new people because she is thinking of changing her professional direction. Until recently, the postdoc was working at the Max Planck Institute for Heart and Lung Research in Bad Nauheim. Now she is tempted by a job in industry.
The Indian, who was born in 1986, already has pretty much all the qualifications this requires. Born and raised in Bangalore, she graduated with a BSc in biotechnology in 2008 before doing an MSc in medical genetics at Newcastle University in England. She moved to Frankfurt in 2011, obtained a PhD in cardiovascular biology at Goethe University and spent six years working at the Max Planck Institute. Now she is attracted by the pharma cluster in Rhine-Main, which recently caused a sensation worldwide with its novel mRNA vaccine against coronavirus.   
There is also another version of Anuradha Doddaballapur's story, however. Even as a child she loved cricket, played out on the street, joined a club at the age of twelve and then played for years in the women's team of the state of Karnataka. She never lost her enthusiasm for cricket, neither in England nor later in Germany. In Frankfurt she initially played in a men's team before deciding to establish a women's team herself.
In early August 2022, "Anu" – as her fellow players call her – and her team became German champions for the second time in a row. She is player, coach and manager all in one, as well as captain of Germany's national squad – and even holds a world record: she is the first woman in international cricket to take four wickets in four consecutive balls.
As the matches involve a lot of travel, she now knows Germany very well – and has also found her own way to foster integration: Indians, Pakistanis, Filipinas, Thais, New Zealanders, Portuguese and Germans play in her Bundesliga team. Her next goal is to get the national team into the Top 20 – a pretty lofty ambition given that the team is currently ranked 33rd.