"Multicultural and young city"
Living in Germany: intensive-care nurse Luisa from Italy talks about her experience in Munich.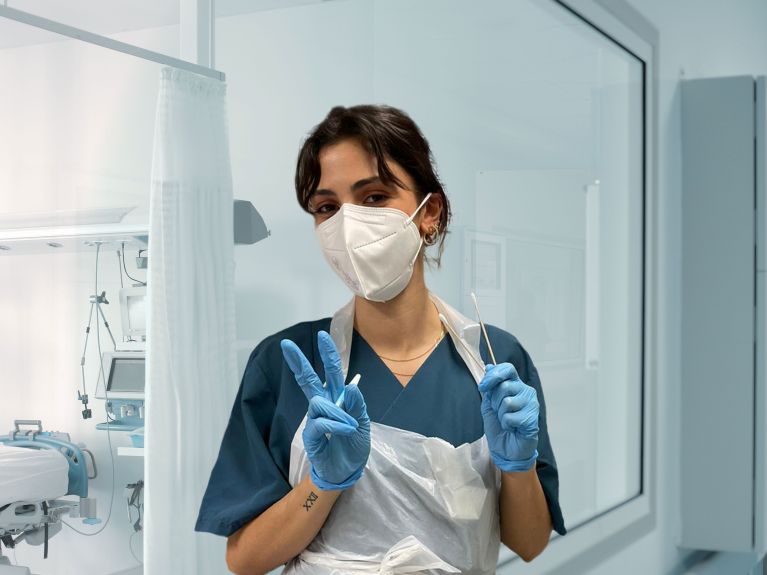 Are you interested in living and working in Germany? We have spoken to several expats; they share their stories and experiences with you here.
Luisa Gasparo, 24, from Italy
I'm an intensive-care nurse and work on the neurological ward of Munich University Hospital. It's one of the biggest university hospitals in Germany. That's why I really wanted to come here. I originally come from Puglia in southern Italy, on the heel of the boot.
After graduating from high school, I studied for three years in Rome to qualify as a nurse. I came to Germany one and a half years ago. Before that, I spent eight months learning German with the Linguedo programme. That's a German startup that finds work in Germany for Italian nurses – so you learn technical vocabulary on the online language course at the same time. In any case, my colleagues on the ward were very enthusiastic about my German skills. In between, I spent three months as an au pair with a family, so I also learned everyday language very well. Linguedo also took care of all the bureaucracy, such as health insurance and a bank account. The clinic helped me find an affordable apartment, and now I only have to walk five minutes to my workplace.
After three months as a nursing assistant, my qualifications were recognized and I immediately got a permanent job. I think the opportunities for further training at a university hospital are great. The salary is also much better than in Italy, even though the cost of living on the whole is perhaps a bit higher in Germany. I like it here a lot. Munich is a multicultural and young city with lots of nature.
Because of the work, I would prefer to stay for many more years. But because my partner lives in Italy, we now have to think about whether he will come here or whether I should go back. After all, that's where my family lives. If I do go back, my experience abroad and language skills will certainly be an advantage, although my further-training courses may not be recognized there. At the moment, I still have a mini-job at Linguedo helping newly arriving nurses from Italy – the same way I was supported at the beginning.
You would like to receive regular information about Germany? Subscribe here: