"Warm-hearted and caring"
Living in Germany: Anand and Supriya from India talk about their experience with the country and its people.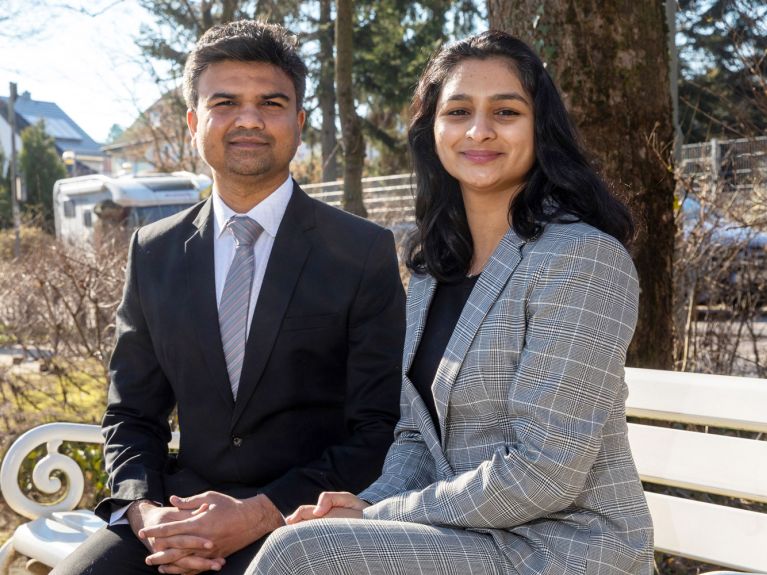 Are you interested in living and working in Germany? We have spoken to several expats; they share their stories and experiences with you here.
Anand Shingi, 34, and Supriya Bhandari, 33, couple from India
We come from Pune in the western Indian state of Maharashtra. I, Anand, was already working for Deutsche Bank there. When the opportunity arose four years ago to go to Germany for a longer period, I didn't hesitate. I had already been here once before for six months and knew what to expect. At the bank, I work in the finance department as an assistant vice-president. In the international financial world, it's quite easy to move to another country because everyone speaks English anyway. Getting a work permit and the necessary papers was also easy for me because an organization took care of it all for me. However, since you have to fill in a lot of pages in German, it's very difficult without language skills and help.
It was much more difficult for me, Supriya, to find a job: I had to spend two years learning German until I got the B2-level certificate. I`m now working as a management consultant for an international corporation here in Germany.
We were happy to come to Frankfurt am Main because it's the financial capital of Germany and Europe. Apart from which, it's easy for us to travel throughout Europe from here. We were told that Germany was very different from India. For example, Indian people have very close contact with families and friends. But we have found that most Germans are very warm-hearted and caring.
We eat vegan, so we haven't found that many good restaurants yet. Sometimes you order a vegan dish, for example, and you find egg in it. But in international cities like Frankfurt and Munich there are lots of big Indian and Asian supermarkets where we can get everything we need.
What we like is that there is much less air pollution, and public transport is not so crowded. But, relatively little is handled digitally at government offices; people mostly have to go there in person. It's difficult to obtain a permanent residence permit. However, I, Anand, have now been able to apply for one. You have to take the naturalization test; I don't think that's a bad idea. But the next available free dates for an appointment are not for another six months. A little less bureaucracy would certainly help attract more top talent to Germany.
You would like to receive regular information about Germany? Subscribe here: