"The north is quite different"
Living in Germany: fully trained hotel clerk Michel from Brazil talks about his experience in a German tourist area.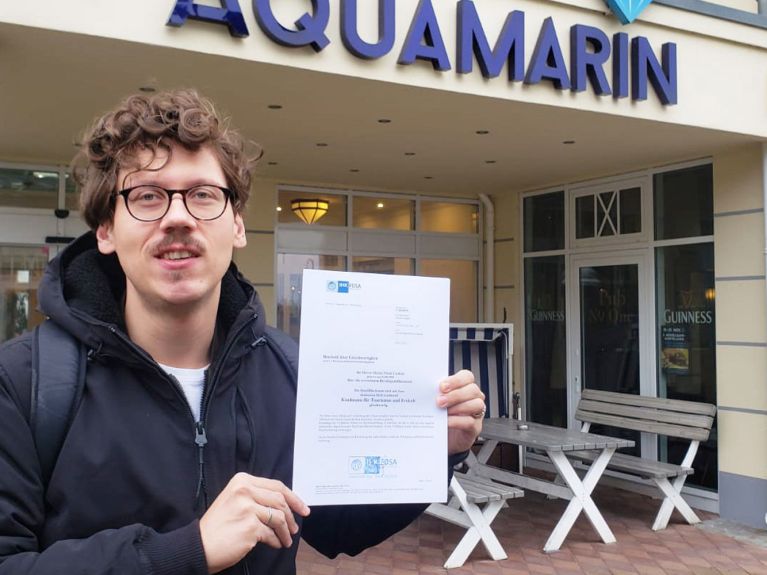 Are you interested in living and working in Germany? We have spoken to several expats; they share their stories and experiences with you here.
Michel Polak Carlota, 31, from Brazil
When I dreamed of working in Germany one day, I never thought I would be living here near a beach on the Baltic Sea. I grew up in Brazil and lived in São Paulo. There I graduated as an agent for tourism and leisure and later worked in hotels, in an agency for business travel, and on a project to promote tourism with Germany. I started learning German at the Goethe-Institut back in 2010 – and continued for a total of seven years.
Today, I work as a receptionist in a four-star hotel in Kühlungsborn on the Baltic Sea. I've only been here since November 2021 and have already got used to the cold in the winter. My wife is an architect; she had already spent some time in Berlin and was also excited about my idea of living in Germany for a while.
I found out about the 'Hand-in-Hand' programme on Instagram and applied straight away. It's a collaboration between the Chamber of Industry and Commerce and the Federal Employment Agency and aims to encourage qualified specialists from ten professions and three countries to work for German companies. As a result, everything went very quickly and without any problems. My good knowledge of German helped me a lot. Others have to learn the language in six months, which is definitely more difficult. I also have relatives in Göttingen, and my mother works for a German company in Brazil.
For many people in Brazil, Germany only means Munich and the Oktoberfest. But the north with the sea and the beaches is quite different. I've got on very well with all my colleagues up to now. I've heard that it's hard to make friends in Germany. Relationships may be more common in Brazil, but here they are less superficial. You have to work harder to make friends. It's a different approach to life. I feel comfortable here. That's why I would like to stay for ten years or even longer.
You would like to receive regular information about Germany? Subscribe here: