"Germans love the outdoors"
Living in Germany: Claire from Scotland shares her experience as a teacher in Frankfurt.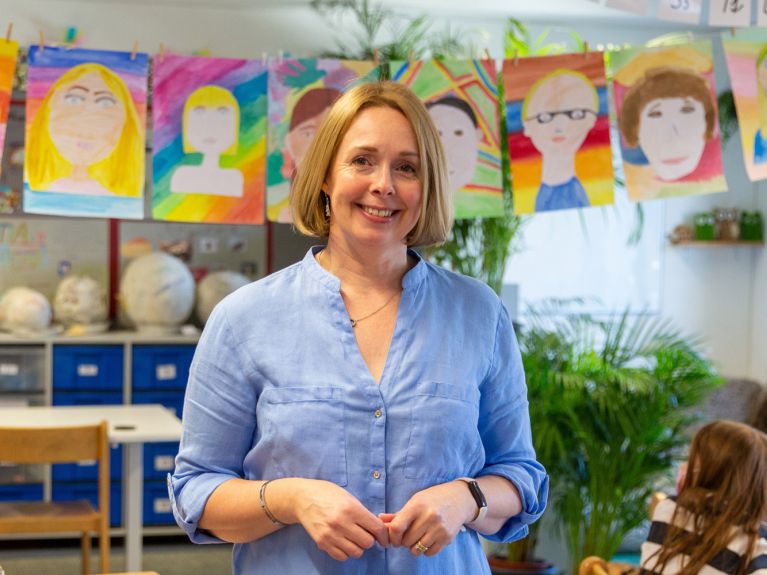 Are you interested in living and working in Germany. We have spoken to several expats; they share their stories and experiences with you here.
Claire Snoddy from Scotland
I'm Scottish, but I've also lived in England and China. We moved from Shanghai to Frankfurt four years ago because of a job offer for my husband, who is head of communications in the automotive industry. I had never been to Germany before, not even as a tourist. I initially came without a job; we have children and first we had to find a new home. Now the children are studying. Looking for work, I sent my résumé to the bilingual Phorms school. I had worked as a teacher for eight years before that and also in other jobs.
The very next day, I was invited to an interview and was able to start working there as a teacher. My work permit was taken care of by my employer.
It was quite easy to get used to living in Germany, even without much knowledge of German. There are many similarities with the UK – but also many cultural differences: fairness is a top priority both here and there; so is the importance of following rules. Shops don't open on Sundays in Germany, though, which means you have to get everything done on Saturday. On the other hand, Sundays are completely reserved for the family, to relax. I find that very pleasant.
Germans love outdoor activities. To my great surprise, the weather here from spring to autumn is much better than in the UK. You can be out and about every night if you want. In Germany, particular attention is paid to a good work-life balance. That was also very important to me. Living here is relatively easy and we are very happy here. That's why we've decided to stay for an indefinite period. If I had just one wish, however, it would be that drivers in Germany weren't so impatient. They start honking behind you at a traffic light even before it's fully changed to green! I also wish they wouldn't drive so fast on the motorways.
You would like to receive regular information about Germany? Subscribe here: