A mandate based on her own experience
Reem Alabali-Radovan is the German government's new integration commissioner. The issues she will be dealing with in her new office have accompanied her throughout her life.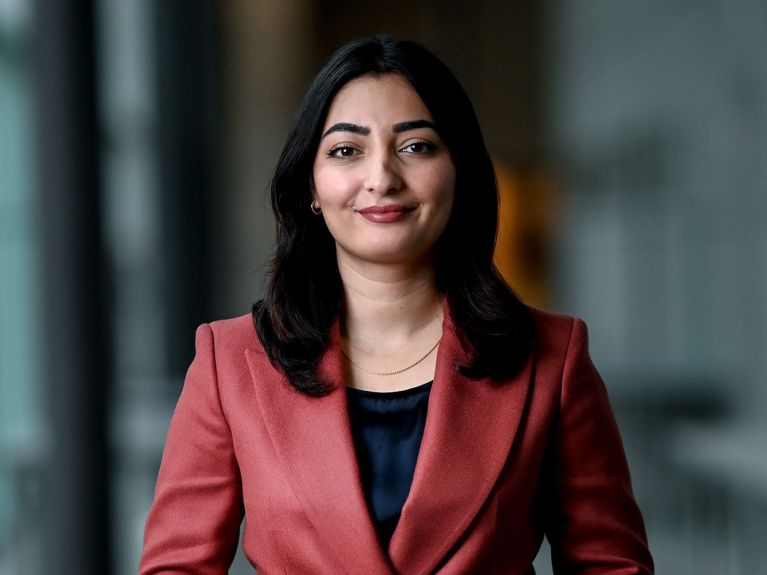 Reem Alabali-Radovan is one example of how the governing coalition of the SPD, Greens and FDP is also leading to a fresh start in terms of the key players in Berlin's political arena. Aged just 31, the new federal government commissioner for migration, refugees and migration is the youngest minister of state. She has only been a member of the SPD since the beginning of 2021, and her parents, who suffered political persecution in Iraq, have officially recognised refugee status. Via Moscow, where their daughter was born, they finally made it to Germany in 1996 – specifically to Schwerin in the state of Mecklenburg-Western Pomerania. In some sense, Alabali-Radovan's personal journey has prepared her for her new role. "The issues associated with my office have accompanied me throughout my life", she said when she was appointed minister of state in the Federal Chancellery.
Creating equal opportunities for everyone
Migrants and refugees have good reason to hope that Alabali-Radovan will listen to their wishes and demands. "It must be the norm for everyone to have equal opportunities to training or a job", she stressed in her first speech to the Bundestag in mid-January 2022. "We will take steps to ensure that qualifications decide – not a person's name, the way they look or their origin."
The social democrat also wants to campaign for greater diversity within her party. Speaking to the party newspaper "Vorwärts", she said that she had long felt that she "simply had no access" to the SPD, and demands: "We must become more attractive to young people and to people with a migration background." In the 2021 Bundestag elections, she herself proved just how this can pay off: the young politician, who had been promoted by the office manager to the position of integration officer of the state of Mecklenburg-Western Pomerania in 2020, immediately secured a seat in the Bundestag for herself by direct mandate in her constituency, beating the other candidates by a considerable margin. The seat had previously been won by the CDU every time since 2009.
Minister from a refugee hostel
Alabali-Radovan studied political science in Berlin. In 2015 she left the northeast of Germany and initially worked at the refugee reception centre where she had actually lived for a while as a six-year-old. An enthusiastic amateur boxer, she is married to Denis Radovan, a professional boxer. The issues associated with refugees and integration are also part of his family's history, as his parents fled to Cologne from Romania to escape the Ceaușescu regime.