From Uckerath to Los Angeles
Pop singer Kim Petras comes from the Rhineland. Her historic success in the Grammys is a symbol of diversity and inclusion in the music industry.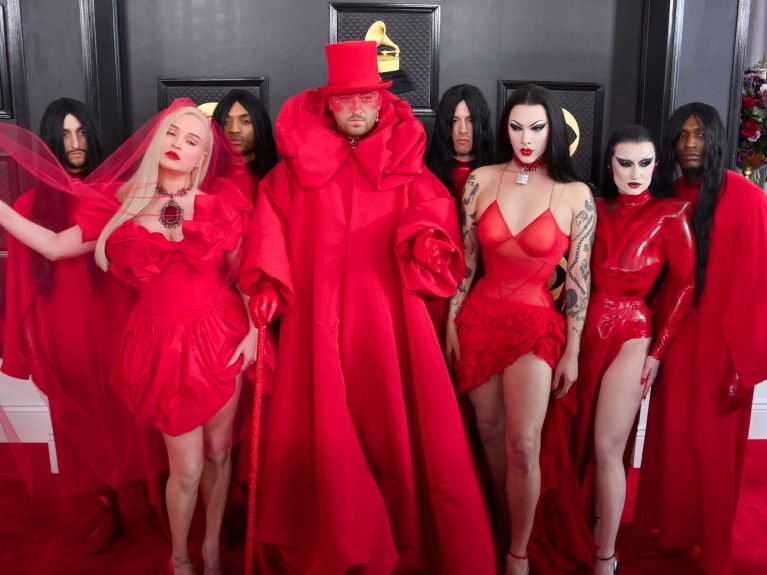 "And the Grammy goes to ... Unholy – Sam Smith and Kim Petras!" announced Motown legend Smokey Robinson onstage at the 2023 Grammy Awards in Los Angeles. Kim Petras and Sam Smith won the award for Best Pop Duo. This makes the 30-year-old German the first trans person in the history of the Grammys to win this category. Taylor Swift, Harry Styles and Madonna were among the superstars who rose to applaud the singer from Uckerath in the Rhineland. Pop icon Sam Smith proudly handed her the microphone. "I want to thank all the incredible transgender legends before me who kicked these doors open for me so I could be here tonight," Petras said. "I grew up next to a highway in nowhere Germany, and my mother believed me that I was a girl. I wouldn't be here without her," she said. 
Petras stands up for the trans community 
Petras doesn't only speak openly about her experiences as a trans women in Grammy acceptance speeches. She believes the issue of trans identity should not be the subject of political discussions. "I just believe it should get out of politics," she told the Deutsche Presse Agentur. "I don't think you should tell other people how they should feel happy and how they should live their lives," Transgender people make up less than 1% of the world's population, she added: "We just want to exist." 
Kim Petras was born in Cologne in August 1992 and grew up in Uckerath. While still a teenager she appeared on a German TV show where she spoke openly about her hormone therapy and her desire for gender realignment. Before starting her music career, she wrote a blog in which she reported on her experiences as a trans person. Fifteen years after her debut single "Last Forever", she and Sam Smith topped charts around the world together. Kim Petras now lives in Los Angeles in California, but it doesn't matter whether she's in Uckerath or LA – she inspires and encourages her fans. This was confirmed by the most-liked comment on the Grammy video: "Two artists who live their authentic lives, completely without fear. We need more artists like this!"