New, but familiar festive season
How do refugees experience Christmas in Germany? Ahed, Zaza and Malek explain what they find familiar and what they miss.
19.12.2018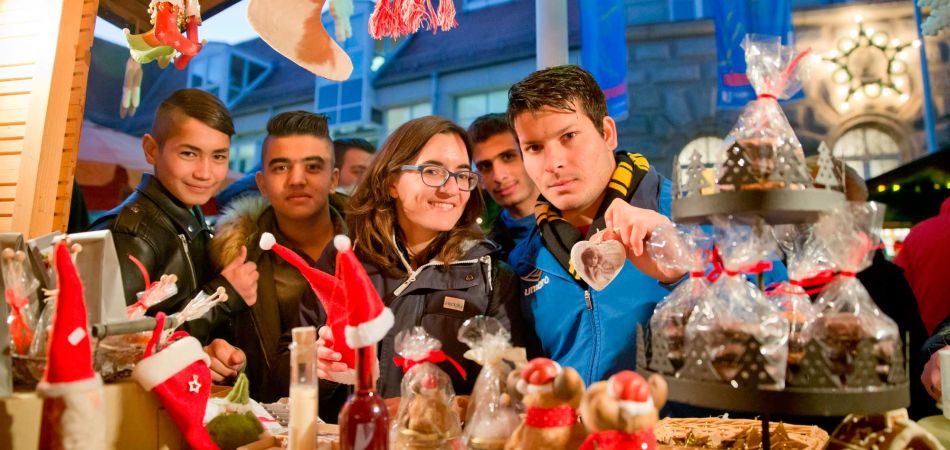 Germany. Germans associate Advent with contemplation, candlelight and cookies. But how does the Christmas season feel for people who are now live here after fleeing from their home countries? We asked three refugees from Syria.
It is sad that nobody in Syria can think of celebrating.
Ahed Hendi (43) lives with her family in Berlin
Ahed (43): "I come from Aleppo, where I was a chemistry and physics teacher. This is the second Christmas I have spent in Berlin with my three children. In Aleppo, roughly 20% of the population are Christians. The relationship between them and us Muslims was always very friendly. The streets were decorated for Christmas, and 25 December is a public holiday. People go to church, visit family and eat together. We visited our Christian friends for a coffee at least. In the meantime we also have many acquaintances in Berlin, for example our German neighbours. I made them a present of four Advent candles. It is sad that nobody in Syria can think of celebrating – especially for the children."
We listened to Christmas carols in Arabic.
Zaza* (63) fled from Syria to Germany
Zaza* (63): "I was born in the Gaza Strip and lived for more than 30 years in Syria until I fled in 2015. I do not practice any religion, although my family are Muslims. I respect all religions, but I believe above all in democracy. In Syria I celebrated Christmas with my wife and my four children. We had a tree, gave one another presents on 24 December and invited friend – not only Christians. We also listened to traditional Christmas carols translated into Arabic. I don't know yet whether I will celebrate this year. I know many people here, but celebrating without the family feels different."
I don't see any difference to Christmas in Syria.
Malek* (16) came to Germany without his family
Malek* (16): "I fled from Damascus to Germany two years ago; my parents still live there. We are Muslims like most Syrians, but in our street almost all the neighbours were Christians. That's why we also celebrated Christmas. We spent the evening of 24 December with friends – with cookies, chicken and presents. I don't see any difference to the way people celebrate in Germany. Here in Berlin I have a guardian – I will spend Christmas with her family. And perhaps I'll send a parcel to my parents."
* Name changed