Shaping society
What values do we want to live by tomorrow? The question occupies these three figures from culture and society.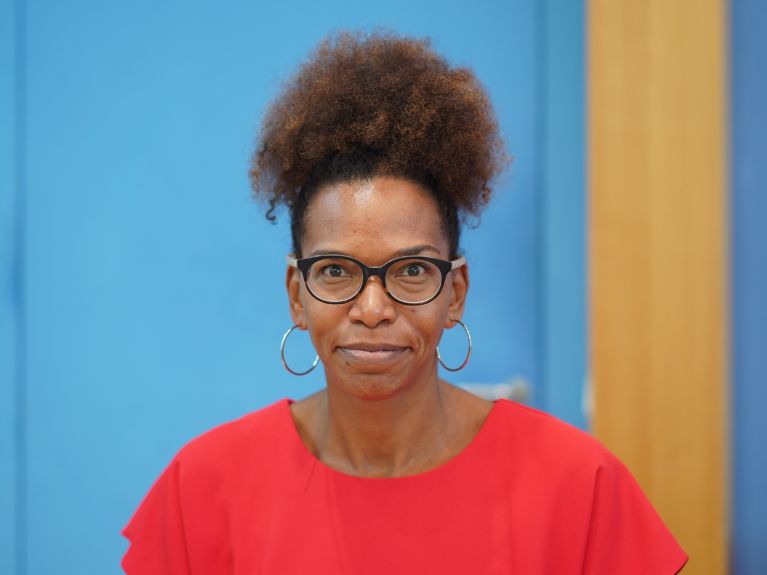 For an equal society – Saraya Gomis
Saraya Gomis is committed to an equal society and more diversity in business and society. She is the chairwoman of the Each One Teach One association, which represents the interests of Black, African and Afro-diasporic people in Germany and Europe. "We are many and we will continue to promote sustainable collaboration in our communities", said Gomis. The senior high-school teacher was Germany's first anti-discrimination officer for schools from 2016 to 2019 and worked on developing concepts against racism in Berlin. Gomis is currently advising the Federal Government's cabinet committee on combatting right-wing extremism and racism.
The future of dwelling – Anh-Linh Ngo
Anh-Linh Ngo is a thought leader in the field of housing and urban planning. The Vietnam-born architect is co-publisher and editor-in-chief of the architecture magazine ARCH+ and a member of the board of trustees of the International Building Exhibition (IBA) 2027. As an architecture journalist, he writes about the future of dwelling and cities, including the effects of the coronavirus pandemic and working from home. In March 2020, ARCH + under his direction received the Berlin Art Prize of the Academy of Arts.
The political pianist - Igor Levit
The award-winning pianist Igor Levit sees himself not only as an artist but also as a citizen and European. Levit is political, takes a clear stand against anti-Semitism and intervenes in social debates. During the coronavirus pandemic, the Russian-born musician gave numerous concerts from home to cheer up listeners. His live streams reached hundreds of thousands of people.