Welcome help during the pandemic
Because care workers are in short supply, more and more Vietnamese are coming to Germany for training. There is one piece of advice they should take to heart.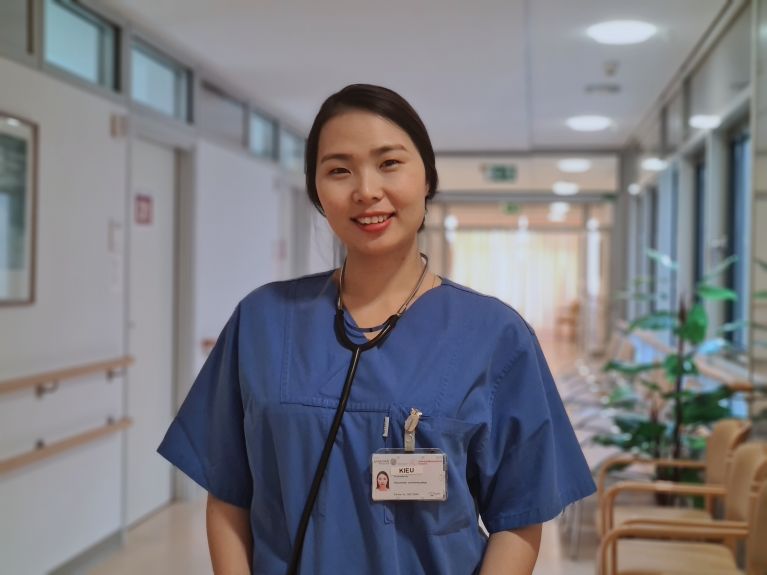 Kieu Oanh was immediately impressed when she arrived in Germany in 2019: she received a cordial welcome and there was clean air and reliable transport. However, her start at Rostock University Medical Center turned out bumpier than she had expected. There were misunderstandings because of the language. "A German colleague said: 'Get the files.' And I got the wrong ones," explains the 25-year-old care worker from Vietnam. But she didn't give up, carried on learning German – and soon things got much better.
The work itself was not really a problem, because Kieu had already studied nursing in Hanoi. However, because the curriculum there is a little different, she had to complete a three-year training programme to qualify again as a nursing care specialist – like 20 other Vietnamese women and four Vietnamese men with her. Huyen Nguyen, who is in the third year of the training programme at Rostock University Medical Center, had a similar experience. "I was only just able to communicate in German, but was already supposed to know technical terms in Latin," says the 25-year-old. "That was difficult."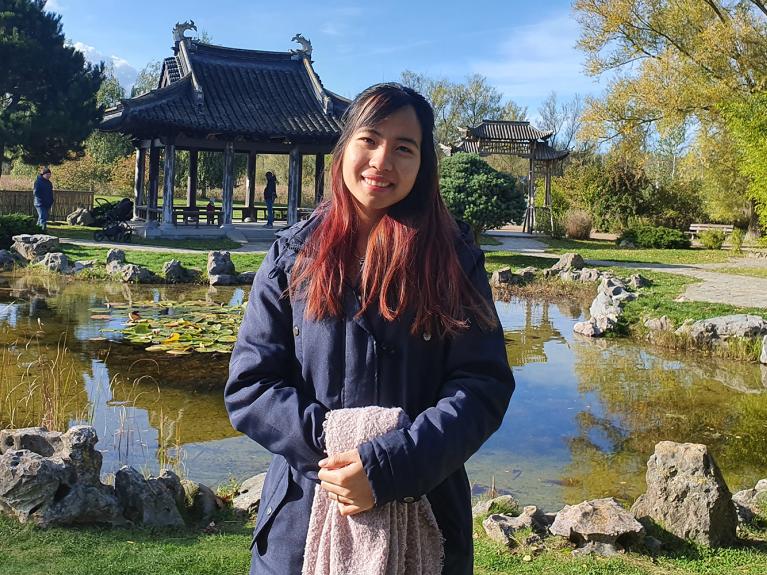 Hospitals, nursing homes and outpatient care services are experiencing staff shortages in Germany. And because more and more people need care, the demand for staff is steadily increasing. The German Economics Institute (IW) in Cologne has calculated that there could be a shortfall of roughly half a million nurses and care workers in Germany by 2035. The relevant Federal Ministry is working with Gesellschaft für internationale Zusammenarbeit (GIZ) to attract future care staff from other countries – for example, Vietnam – in order to reduce this shortage.
The Make it in Germany website offers advice for interested individuals – also in Vietnamese. Over 430 Vietnamese trainees have begun programmes in hospitals or nursing homes in Germany since 2013. The most important prerequisite: German language skills equivalent to at least B2 standard. According to the GIZ, some 200 Vietnamese are currently preparing for their departure from the country with courses at the Goethe-Institut. On their arrival in Germany they will receive the same salary as their German colleagues and be supported by mentors.
Help with settling in
At Rostock University Medical Center, Caren Erdmann is responsible for ensuring that the new arrivals settle in quickly in the city on the Baltic Sea coast. She arranges furnished rooms for the trainees in the hall of residence and helps them with opening a bank account and other everyday concerns. Three year groups of trainees from Vietnam are now undergoing training, a total of 72 future care workers. Only one has dropped out so far. Erdmann is pleased with her trainees. In her experience: "They are reliable and hard-working and focus closely on patients' needs." However, she adds: "The language barrier continues to be the biggest challenge." This is also confirmed by Sigrid Hoborn. She is the manager of Lübzer Tagespflege, a daycare centre for 20 elderly people in Lübz, a small municipality in Mecklenburg-Western Pomerania. Two young trainees from Vietnam began working there last autumn.
There is also another intercultural difference: care workers in Germany do not perform many medical duties, but are mainly involved in looking after people. Kieu Oanh was initially also puzzled by the fact that she was meant to wash patients. In Vietnam, this is done by family members. In Germany, on the other hand, it is normal for care staff to feed people and perform body care for them.
Almost all trainees want to stay
Nevertheless, Huyen Nguyen and Kieu Oanh have settled in well and want to stay. Huyen Nguyen will finish her course this summer. She has put down roots in the city on the Baltic Sea, lives with her German boyfriend and likes German food. Kieu Oanh is also certain she would like to stay and later start a family in Germany. She has big plans: after graduating, she would like to carry on training and qualify as a practice instructor to pass on her knowledge to new staff. However, the two trainees at Lübzer Tagespflege would prefer to continue their training in Hamburg, where they have relatives. In the long run, the small municipality is not really the right place for two 22-year-olds from megacities with millions of inhabitants.