Wael's dream
Six years ago, Wael Shueb came to Germany as a Syrian refugee. Now he is taking part in the Olympic Games in Tokyo.  
Alex Westhoff / 02.08.2021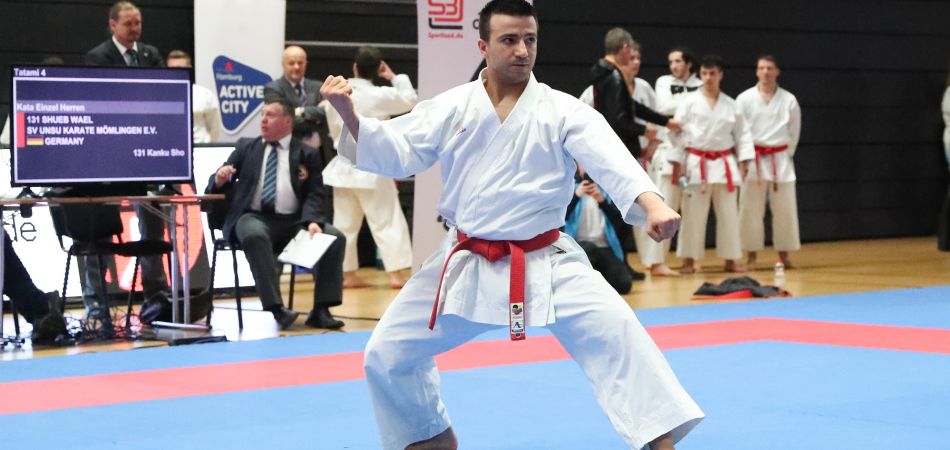 "I am living my dream", says Wael Shueb. Six years after fleeing from Syria to Germany, the 33-year-old now finds himself in the Olympic Village in Tokyo. On Friday, 6 August, he will be taking to the mat to compete in the discipline of karate. Shueb was nominated for the Refugee Team by the International Olympic Committee (IOC). Together with 28 other athletes – including six who live and train in Germany – the Syrian marched into the stadium during the opening ceremony.
To be taking part in Japan, the home of the martial art of karate, is the highpoint of Wael's dream trip. "I feel very honoured. I am doing something that I will be able to talk about for the whole of my life", he says. Shueb will be competing in the discipline of kata – this does not involve fighting against an opponent but taking part in imaginary combat, keeping one's movements as perfectly choreographed as possible. "I am here to win. However, winning for me does not necessarily mean getting a medal, but conveying a message through my personal story. This is also what winning means for me", says Shueb.
Shueb's story is a prime example of how sport can change lives. Of how much can be achieved thanks to committed individuals who help one to get started and then accompany one along the way. Of how a desperate refugee can become a self-assured man who is becoming integrated into society and travelling as an athlete to the Olympic Games.
His coach also came to Germany as a refugee
After arriving in Germany as part of the first major wave of refugees in 2015, Wael ended up by a circuitous route in the small town of Neu-Anspach in the Taunus region. Because he had once been in the Syrian national karate squad, he caught the attention of Erko Kalac. A Montenegrin and successful karate fighter and kickboxer himself, he likewise came to Germany as a refugee during the turmoil of the war in Yugoslavia. Kalac founded the Lotus Eppertshausen health and martial arts club, which has won multiple awards for the work it does in the area of integration. He found accommodation for Shueb in south Hesse, as well as an apprenticeship in a gym.
Shueb still teaches karate to children and adults at the club to this day; in addition, he gives private online classes on YouTube. And of course he had to do a great deal of training to get himself into top form. "I am the best athlete I have ever been", says Shueb confidently. "I can truly say that I have given my very best every day during my time in Germany, and have taken advantage of every opportunity to reach this level." Not only as an athlete, but also as a person with his own particular story.
Shueb loses his fighting spirit at times, however. For example when he loses contact yet again with his father, who remained in Syria. Or when he is very worried about his sister whose husband was killed in the war and is having a hard time making ends meet with her five children. Shueb has overcome many hurdles and obstacles. He was debilitated when he arrived in Germany as a refugee, but then gathered together all of his strength, profited from the power of sport – and is now achieving his personal dream.