How Germany responds to crises
Networked, fast, round-the-clock: Frank Hartmann, Commissioner for Crisis Management at the Federal Foreign Office, explains how he and his team work.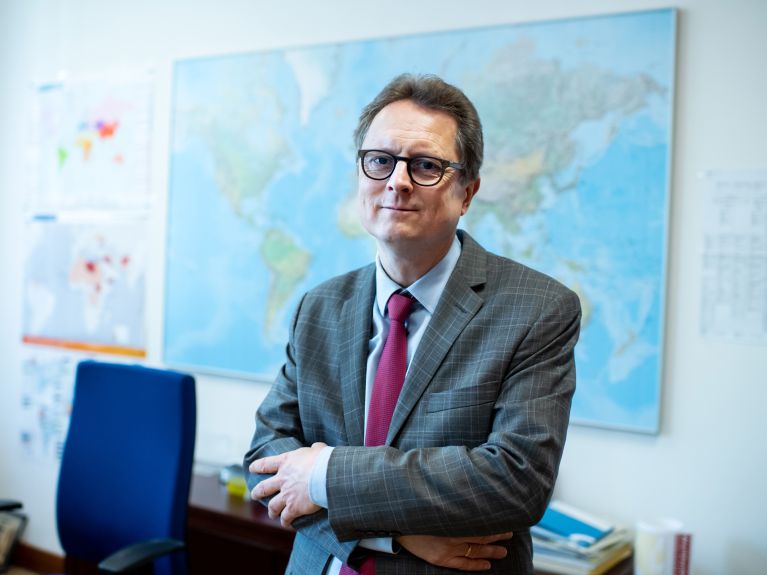 Behind an armour-plated safe door in the basement of the Federal Foreign Office in Berlin – the headquarters of the Reichsbank was once located here – nine wall clocks show the current times around the world from Washington to Moscow, Berlin to Bagdad and Damascus to Manila. Time is of the essence in the Crisis Response Centre at the Federal Foreign Office. Irrespective of whether it is a natural disaster, a plane crash or a global pandemic, when anything happens in the world that might also endanger German citizens, this is where employees of the Federal Foreign Office go into action. In an interview, Frank Hartmann, Commissioner for Crisis Management at the Federal Foreign Office, explains what is important in his work.
Mr Hartmann, what are the duties of the Crisis Response Centre at the Federal Foreign Office?
Our main task is helping German citizens worldwide during a crisis. We are responsible for travel and security warnings and manage the Federal Government crisis unit on situations abroad. In addition, we are currently also represented in the Federal Interior Ministry and Federal Health Ministry Corona/COVID-19 crisis unit. In total, some 40 people work in the Crisis Response Centre. This includes permanent staff at the Federal Foreign Office and several liaison officers from other ministries and departments.
Can you take us on a virtual tour of the Crisis Response Centre?
In the event of a serious crisis, crisis staff assemble in our so-called situation room, which is the operations centre for the crisis unit. If, for example, an evacuation of German citizens is required in an extreme event during a crisis, this is where we plan the operation and communicate with the Federal Ministry of Defence, the Bundeswehr, airlines or possibly the Federal Criminal Police Office (BKA). Then there is the situation centre, a smaller, but important unit that is staffed round the clock seven days a week and is responsible for all crisis communication at the Federal Foreign Office. And there is also the crisis unit chamber, a room with special anti-bugging protection where the Federal Government crisis team I lead meets.
When we have a serious crisis situation – as previously in Mali or Venezuela or currently in Myanmar, for example – we meet with representatives of all authorities and contact the embassy or respective partners in the country to gain a picture of the situation and consider what kind of support we can provide.
Who are these partners?
During crisis situations abroad, our first contact is naturally the German diplomatic mission – in other words, the embassy. Together we attempt to clarify, for example: how many Germans are currently in Myanmar? How many people want to leave? Must we recommend that they leave the country because of the security situation? Depending on the situation, we establish contact with all the important actors on the spot – for example, in development cooperation countries we also contact the Federal Ministry for Economic Cooperation and Development, the GIZ and other organisations on the spot.
What are your responsibilities in the corona pandemic?
Our work here has developed in very different ways during the last year. On one hand, we coordinated the large repatriation effort in March 2020 that brought 240,000 German tourists back to Germany from 60 different states, including 7,500 people from other European countries and 3,500 from other countries. On the other hand, we declared a global travel warning. This was followed by phase two: maintaining the operational capabilities of diplomatic missions with rotation and supply flights. Furthermore, we actively contribute to national crisis management. I represent the Federal Foreign Office in the crisis team of the Federal Interior and Federal Health Ministry. Here, among other things, we provide support in designating high-risk regions. We were recently also assigned the very new task of providing logistical support for the vaccination of staff posted to diplomatic missions in crisis regions.
Where do you obtain your information?
Again, the most important partners are our diplomatic missions – above all, when it comes to evaluating high-risk areas. The missions send us appraisals, for example, on the facilities of the health system in the respective country, on the reliability of data and on the general development of the pandemic. These evaluations then contribute to joint risk area analysis with the BMG, BMI and the RKI.
What about international cooperation?
We collaborate with crisis response centres in numerous partner countries. We exchange appraisals of the risk situation in a country. And we also coordinate these activities with the European Union. If we are not as strongly positioned in a country as France or the United Kingdom, for example, then we consult with them: what is your appraisal of the state of affairs? How dangerous is the situation? What are you doing for your citizens there? We also support one another in the event of repatriations, as happened last year with our programme to return tourists. We also brought back other Europeans. And our partners also did that for us in countries where they have a stronger presence. To that extent, international cooperation is very important during a crisis. There are well-established procedures for providing mutual assistance.
You have already experienced many crises. What makes the corona crisis so unique?
It is a chronic and also a global crisis situation of a kind we have never experienced before. Otherwise we often face acute crisis situations – whether political crises or damaging events like aircraft crashes – that are limited in terms of time and space. In contrast, the corona pandemic affects everyone. I still remember exactly what happened on "black Friday", 13 March 2020, when almost all international air transport suddenly came to a halt. That also raised doubts about the ability to function of the Federal Foreign Office and other authorities that operate internationally. It presented an incredible challenge. How could our system of diplomatic missions, of international cooperation still function at all under such circumstances?
Did you succeed?
We passed the acid test. We have agreed ways of working that enable embassies to continue operating in difficult crisis countries while maintaining a balance between staff safety and the necessary functionality. Much of what we do has been successfully switched to virtual communication. Nevertheless, in the long term we still need missions on the spot. Diplomacy requires personal contact.
You would like to receive regular information about Germany? Subscribe here: