Forward-looking pact with Africa
Germany and the G20 are backing Africa's economy and good partnership with new programmes.
07.06.2017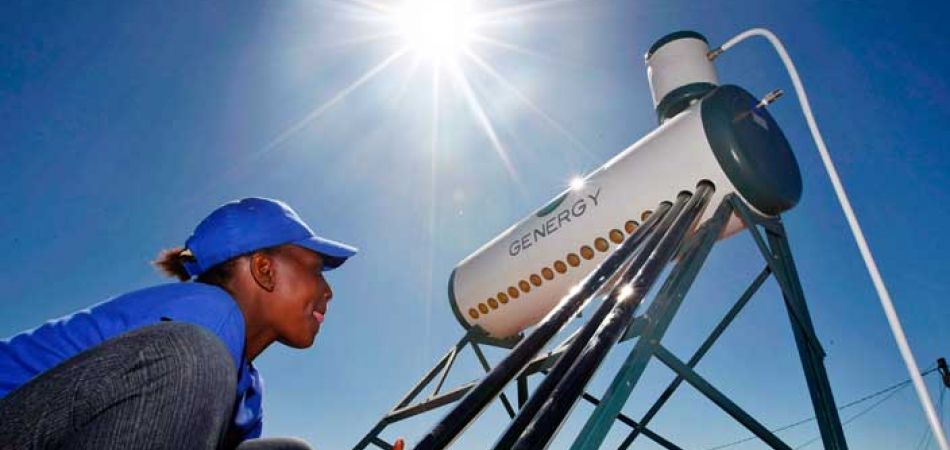 Victoria Ataa sits under a cashew tree offering some respite from the stifling midday heat. "These trees changed my life. They made me a happy woman." Their fruit has freed the farmer from abject poverty. As the global demand for these tasty nuts increases, so too do Victoria Ataa's profits. The 45-year-old Ghanaian is one of millions of people in Africa who are seeking a better future. The chances of achieving this are encouraging as the continent finds itself at the centre of the global agenda in 2017 – the European Union (EU) is looking to sign a new partnership agreement at an EU-Africa summit, while Africa is one of the key issues of Germany's G20 Presidency in 2017. A pillar of the new partnership, the Compact with Africa initiative funded by the G20, is being coordinated by the German Federal Ministry of Finance and aims to boost private investments in Africa. The Compact with Africa is a long-term project which is open to African nations that are sustainably working to improve conditions for private investments in Africa. A number of countries have shown interest in the initiative, especially Côte d'Ivoire, Morocco, Rwanda, Senegal and Tunisia. These countries recently took part in the G20 Finance Ministers' and Central Bank Governors' meeting in Baden-Baden and form the so-called C-5, the first group of Compact Countries.
At the start of 2017 the Federal Ministry for Economic Cooperation and Development also published its cornerstones of a Marshall Plan with Africa. It takes its name from the famous Marshall Plan, the initiative conceived by the then US Secretary of State George Marshall to support war-torn and destitute post-war Europe with around 13 billion dollars in aid between 1948 and 1952. The Marshall Plan was "the" initial spark for enduring economic growth in Western Europe and is considered the most successful development programme of its kind. "We called our position paper 'Marshall Plan with Africa' to make clear the enormous effort required. Instead of an economic finance plan, like the original Marshall Plan, this Marshall Plan should above all, however, be an economic mobilisation plan," says Federal Minister for Economic Cooper­ation and Development Müller. The Marshall Plan with Africa is intended not only to signal a new start but also to form the basis for a new way of working with Africa. "We want to move away from the old give-and-take way of thinking. What is required with Africa is economic cooperation on equal terms. We want cooperation which is based on mutual interests and wishes." Commercial investments are to create jobs and prospects for people in Africa and in the long term address the root causes of flight and migration. The Marshall Plan with Africa states, "We want African solutions to African challenges."
The Federal Ministry for Economic Co­operation and Development will set aside an initial 300 million euros to support the Marshall Plan for Africa. It is hoped that fair trade between African and European countries, the increased flow of investment from Europe and above all the countries' own efforts will create jobs, reduce poverty and establish or preserve peace. German companies should also profit from the initiative.
To gain an insight into the potential shape of things to come from this initiative, look no further than the story of the German pastry manufacturer Intersnack. The company used to have difficulty purchasing good cashew nuts from Africa, while the nuts simply went to waste in the fields. In Ghana cashew nuts are simply not part of people's diets – it was inconceivable to people like Victoria Ataa that many thousands of miles away in Cologne someone might be willing to pay a good price for these nuts.
In order to avoid supply shortages, Intersnack joined the Competitive Cashew initiative 
in 2010. On behalf of the Federal Ministry for Economic Cooperation and Development, the Bill & Melinda Gates Foundation and over 30 com­panies interested in reliable cashew supply chains, GIZ, Germany's agency for international development, implemented a comprehensive 50 million euro programme in Benin, Burkina Faso, Côte d'Ivoire, Ghana and Mozambique. The project monitors and supports the entire supply chain – schemes that provide training and guidance help 
to increase production, improve processing, make marketing more professional and increase exports. More than 400,000 farmers in participating 
countries have benefited from the programme. Many of them have been able to double their income from cashew nuts.
The Federal Ministry for Economic Co­operation and Development is looking to establish close partnerships with Côte d'Ivoire, Ghana and Tunisia in particular. These three countries are 
seen as "reform champions" as a result of their 
commitment to democracy, human rights, education, equal rights, fighting corruption, and eco­nomic development. Key areas for further economic development are to be defined for each of the three countries in the future.
The German-African Business Association sees positive approaches in the Marshall Plan with Africa. "If the instruments announced in the new forward-looking pact with Africa can be quickly specified and also put into practice, then it will 
be an important step towards sustainable growth and more commitment from businesses," says Christoph Kannengiesser, CEO of the German-­African Business Association. There are also a number of medium- and long-term opportunities for German businesses: "New construction projects 
like roads, railway lines, airports, ports and power plants open up opportunities for German SMEs," says Kannengiesser.
Africa is also confronted with demographic challenges. Experts estimate that Africa's population will double to 2.4 billion by the year 2050. Faced with this issue, questions regarding food security, energy supply, conservation of resources and above all the job market are becoming increasingly relevant. "The private sector ... will create all the long-term employment opportunities that are needed. So it's not subsidies that Africa needs so much as more private investment," explains the Marshall Plan with Africa.
To achieve this, African nations are expected to create a secure and attractive investment climate by fighting corruption, stopping illicit financial flows and winning over investors with good governance, while European countries and businesses are set to contribute with innovation and know-how which could then transform African challenges into African opportunities. "Around half of the 20 fastest-growing national economies are 
in Africa. This potential should be capitalised and built on," says Kannengiesser.
One formula for success has already been demonstrated by the software company HSH. The Brandenburg-based firm has operated in Africa for the last five years. Four German and ten inter­national, mainly African, software specialists are working in offices in South Africa, Ghana, Nigeria and the Democratic Republic of Congo. They develop software for governments and public administrations; in fact many authorities use HSH solutions for registrations. "Digitalising public administration is also on the agenda in Africa. We can contribute our experience in that area," says managing director Stephan Hauber. "If you are creative and show 
respect and patience, you can develop a mutually beneficial partnership. We will also be investing in Africa in the future."
The cashew nuts from Victoria Ataa's 
farm will soon start being processed in Africa too. A few hours away from her land a Danish investor has invested in a company which purchases the harvested crops from thousands of farmers. The German-African Business Association hopes that more German businesses will soon be following the Danish investor's example. //