Showing responsibility together
Germany held the G7 Presidency in 2022. The period was shaped by the Russian war of aggression against Ukraine.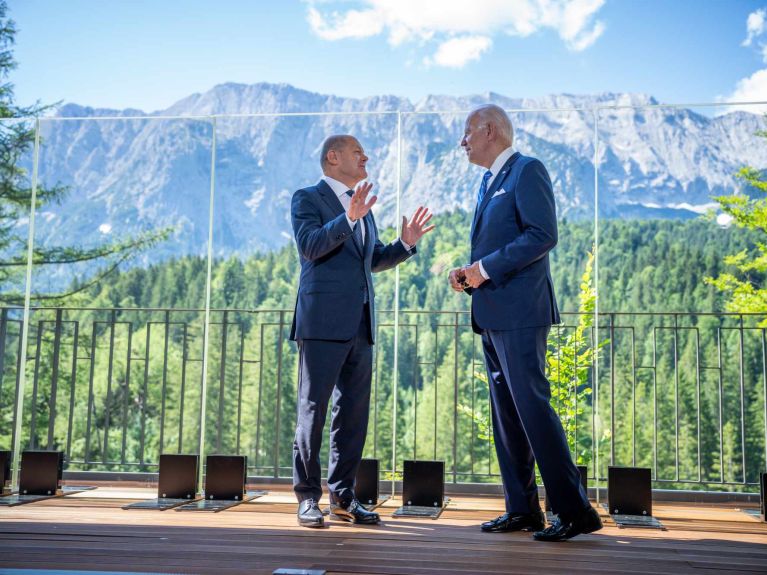 In mid-December 2022, the heads of state and government of the G7 countries convened for a final virtual meeting under the German Presidency. It was already their sixth joint exchange of views this year – and almost ten months after the start of Russia's war of aggression against Ukraine, Chancellor Olaf Scholz and the other heads of state and government once again assured the country of their support. Solidarity with Ukraine has been "a common thread running through our Presidency," Scholz said.
G7 countries support Ukraine
The seven economically strongest democracies in the world reacted to the war of aggression launched by Russian President Vladimir Putin in February 2022 with unprecedented sanctions against Russia, as well as with both financial and military aid to Ukraine.
"We  all agree: President Putin must not win this war," Chancellor Scholz said after the G7 summit at Schloss Elmau in Bavaria at the end of June. The G7 also assured Ukraine of long-term assistance in the reconstruction of the country. The aim was to create a "new Marshall Plan for the 21st century," explained Scholz and EU Commission President Ursula von der Leyen at a conference of experts under the German G7 Presidency in Berlin at the end of October.
G7 Summit at Schloss Elmau
The high point of the German Presidency was the three-day summit of heads of state and government in the summer of 2022. This was the seventh time that Germany has hosted such a summit – and the second time at Schloss Elmau in the Bavarian Alps. The previous summit under the German Presidency in June 2015 had also been held at the luxury hotel located about 100 kilometres from Munich.
The G7 countries also sent out clear signals  in the joint fight against hunger and for climate protection. For example, they launched a Global Alliance for Food Security and provided it with additional funding of US$4.5 billion; Germany pledged €450 million.
Open Climate Club founded
At the Elmau summit, the G7 countries had already agreed to initiate an open and cooperative Climate Club as a global response to the climate crisis. At their last virtual meeting in mid-December, the heads of state and government decided to set up this club. All interested countries are invited to join this Climate Club in 2023.
Japan takes over G7 chairmanship
In addition to Germany, the 'Group of Seven' also includes France, Italy, the UK, Japan, Canada and the United States. The G7 is not an official organization; rather, the states convene for an informal forum. The respective Presidency therefore has a special role to play. Japan will take over this role from Germany at the beginning of 2023.
An overview of the German G7 Presidency can be found here.
You would like to receive regular information about Germany? Subscribe here: