25 years German Unification Treaty
On 31 August 1990 negotiators from both East and West signed the Unification Treaty. It settled the accession of the GDR to the Federal Republic.
25.08.2015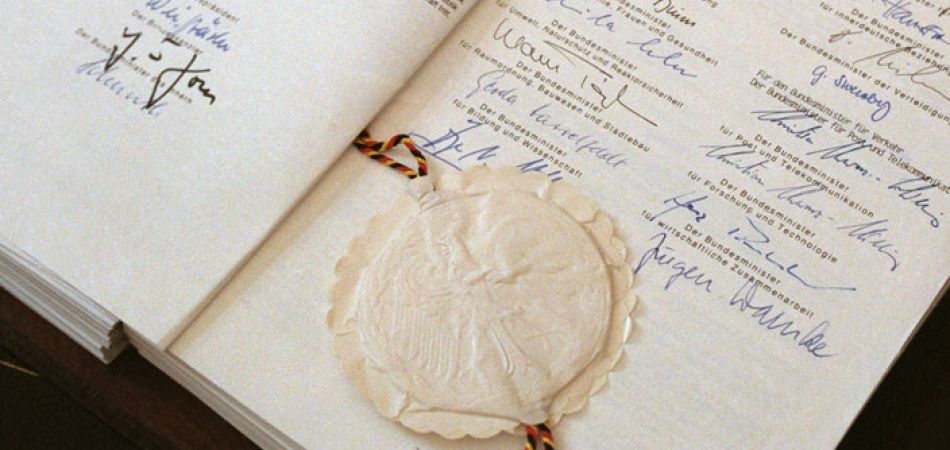 "Now it's really up to only us", said Wolfgang Weng of the FDP when on 20 September 1990 he stepped to the lectern at the Bundestag in Bonn. The MPs had learned that in East Berlin a majority of the People's Chamber of the German Democratic Republic had just agreed to the Unification Treaty. The treaty was to seal the German reunification. It was signed on 31 August by the chief negotiators, then Federal Minister of Interior Wolfgang Schäuble and the GDR State Secretary Günther Krause. It could come into effect only with the consent of both parliaments. Shortly after the decision of the People's Chamber, the Bundestag also voted in favour of the corresponding law. "With this vote", said Bundestag President Rita Süssmuth, "the German parliament has concluded its deliberations on a treaty of unique importance for the future of our country".
This was preceded by a true negotiation marathon; the Unification Treaty was the decisive set piece in a comprehensive legal structure upon which the reunification was based. On 1 July 1990 the treaty establishing a monetary, economic and social union came into force. With this, border controls were abolished and the Deutschmark became the single currency. Proceeding at the same time were the negotiations on the Two-plus-Four Treaty between the Federal Republic and the GDR on the one hand and the four victorious powers of the Second World War on the other. It was signed on 12 September 1990 and secured the unification in terms of foreign policy.
"Fill the unification with content and life"
The question of how the unification should take place called for a complex answer. Legally, two paths were possible: according to the then Article 23 of the Basic Law, the Basic Law could also be valid in other parts of Germany if they joined the Federal Republic. The other option was to negotiate a new, joint constitution. In the end both sides came out in favour of accession.
The approximately 900-page Unification treaty settled the transfer of the political and legal systems of West Germany to East Germany. Among other things, the provisions related to parliament, judiciary, education, culture, science, transport and telecommunications. Berlin was made again the capital city, and the 3rd of October a public holiday: German Unity Day. Simultaneously with the Unification Treaty, the State Establishing Act came into effect. Brandenburg, Mecklenburg-Hither Pomerania, Saxony, Saxony-Anhalt and Thuringia became new Federal states. "The shape of the unification has been found", said Federal President Richard von Weizsäcker at the ceremony on 3 October 1990. "Now it must be filled with content and life."
Signing of the Unification Treaty, 31 August 1990