"We can make a difference"
Paediatric nurse Heidi Anguria has been working for Médecins Sans Frontières all over the world for 30 years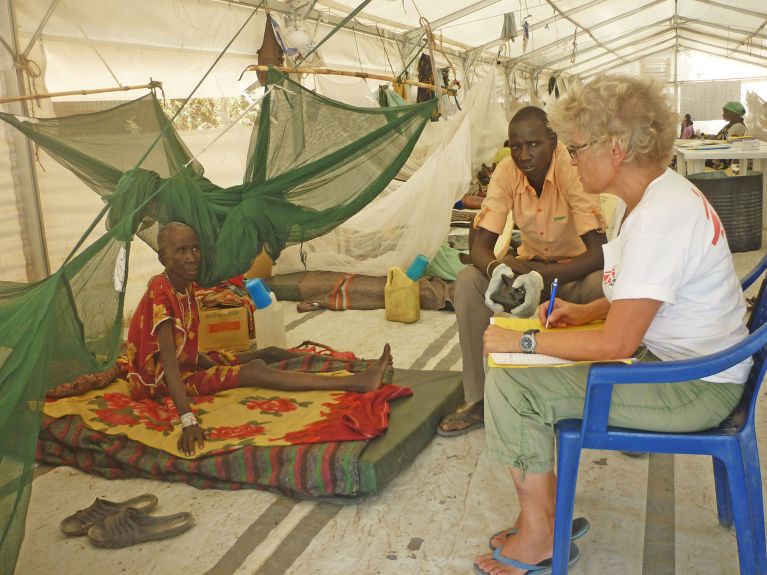 Providing medical assistance to those who are in need because of conflicts, epidemics or natural disasters: this is the challenge faced each year by around 2,000 international doctors, psychologists and nurses who work for "Médecins Sans Frontières" ("Doctors Without Borders") in crisis regions all over the world. One of them is Heidi Anguria, a paediatric nurse from Lübeck. Deutschland.de talked to her.
"I have always enjoyed travelling and getting to know different countries and cultures, especially in Africa", explains Heidi Anguria. "And then I decided that it would also be nice to spend a period of time working there." She has been with the organisation since 1989 – and thus for longer than the German branch has even existed.
Now 62, Heidi Anguria's first assignment was in Uganda, 30 years ago. Since then, she has been in places such as Nigeria, Syria and Bangladesh, not to mention eight times in South Sudan alone. "We drove a mobile medical unit around the villages and small towns there", she explains.
What matters to her, as she puts it, is that "Our work really makes a difference. Children in Africa die of diarrhoea, pneumonia and malnutrition – but we can do something about that." The gratitude of the local people outweighs the things she has to experience: "One gets the impression that the world is becoming a worse and worse place."
She worked for example on a refugee ship in the Mediterranean, providing medical care to people who had been rescued from their boats – and listening to their stories. This is because it is part of the job of the aid workers at "Médecins Sans Frontières" to bear witness, raising public awareness of military, political and humanitarian crises around the world and highlighting places where help is needed.
"In most cases people accept that we have a liaising role", says Heidi Anguria. "In the world's largest refugee camps in Bangladesh, I have also discussed vaccination programmes with imams – which is important because they are the ones who pass on information there within society."
Initially, Heidi Anguria would take unpaid leave from her job at Lübeck University Hospital whenever she went abroad – with "Médecins Sans Frontières" paying her salary instead for the duration of her assignment. These days she works for a temping agency for nurses, which means she is more flexible. Her next assignment will probably come at the end of January 2020, though neither she nor "Médecins Sans Frontières" know where it will take her. One thing is certain, however: it will be to a place where people are in urgent need of help.
You would like to receive regular information about Germany? Subscribe here: