Commitment to rapprochement
Two years in the UN Security Council – Federal Foreign Minister Heiko Maas takes stock of Germany's work in the UN's highest body.
13.12.2020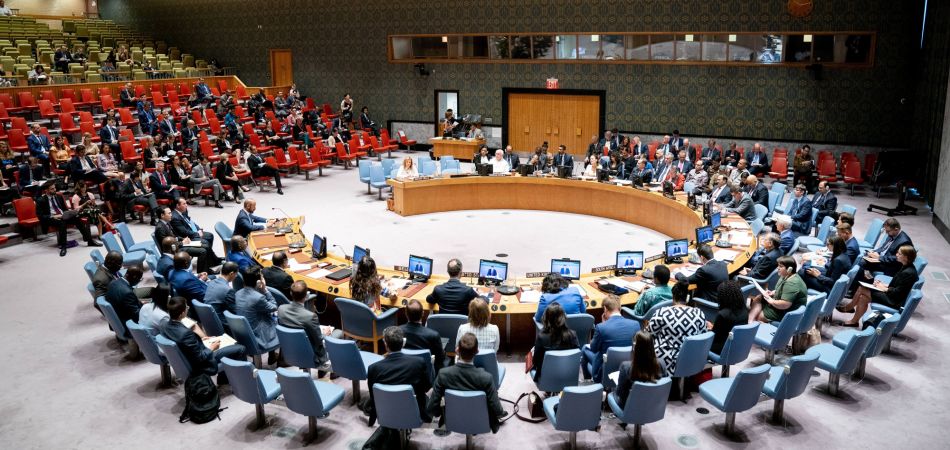 Federal Foreign Minister Heiko Maas has taken stock of Germany's two-year membership in the UN Security Council before the Bundestag. We present his most important statements.
On the world situation
"The United Nations Security Council is nothing other than a mirror of world politics, and it has certainly more than earned the epithet 'difficult' in recent years. The work in the Security Council cannot be described in any other way. The withdrawal of the USA from multilateral structures under Donald Trump, the growing American-Chinese antagonism at all levels, and the disregard for international law, including by permanent members – all this has not failed to leave its mark on the Security Council."
Reason for hope
"If you are tuning up the swan song for the Security Council, I want to counter it with the example of a number, and this number is 101. That is the number of resolutions the UN Security Council has passed in spite of all the controversies and in spite of the difficult conditions during our membership – ranging from Afghanistan to Yemen, from Sudan to the Central African Republic. It was often the Europeans in the Security Council who repeatedly proposed compromises, searched for solutions in long talks, but also, when necessary, resolutely opposed compromise."
What was achieved
"Here are a few examples by which you can see that the Security Council has at least not entirely lost its ability to act. (Syria:) Of course it was painful that in the end we had to limit the access for humanitarian workers in Syria to one border crossing. But the difference between this one and no border crossing has been the difference between life and death for thousands of Syrians. That is why we [...] negotiated over this one issue for days and nights, and also did so with many others.
I [...] would like to address Sudan and particularly the UN mission, which for many has already ended. We [have] managed, together with Great Britain, to launch a completely new UN mission, which is now providing support for political reforms and also accompanying the ongoing peace process.
This also applies to Libya. Without the Berlin process, which we started here with the Libya Conference at the beginning of the year, and without our steady follow-up to the commitments made in the Security Council and in the Sanctions Committee, we would not be talking today about a political peace solution and free elections in Libya in December."
On the role of Europe
"We not only coordinated with our European partners on a daily basis; we also jointly called special meetings, voted together, and thus together showed the global public what it is at stake, namely the weight of Europe and, above all, to strengthen the position of the European Union in the UN -Security Council."
Main issues from Germany's perspective
"More often than any other member of the United Nations Security Council, we have repeatedly had civil organizations and human rights organizations brief the Security Council. Together with France we launched the 'Call for Humanitarian Action'. And for the first time in eight years, we put the issue of disarmament and non-proliferation back on the agenda in the Security Council."
Plans for the future
"We Europeans should [...] learn a lesson from the last few years, namely that [...] it will depend much more than before on us to defend rules in the world and to establish new ones, rules that benefit everyone. Germany too must continue to face this responsibility – in the United Nations and of course in the United Nations Security Council. [We] want not merely to run again for a temporary seat on the Security Council in eight years' time; we want to become by then a permanent member of the United Nations Security Council."
You would like to receive regular information about Germany? Subscribe here: