A commitment to strong multilateralism
Foreign Minister Heiko Maas on Germany's challenges in the United Nations Security Council, the heart of the international order.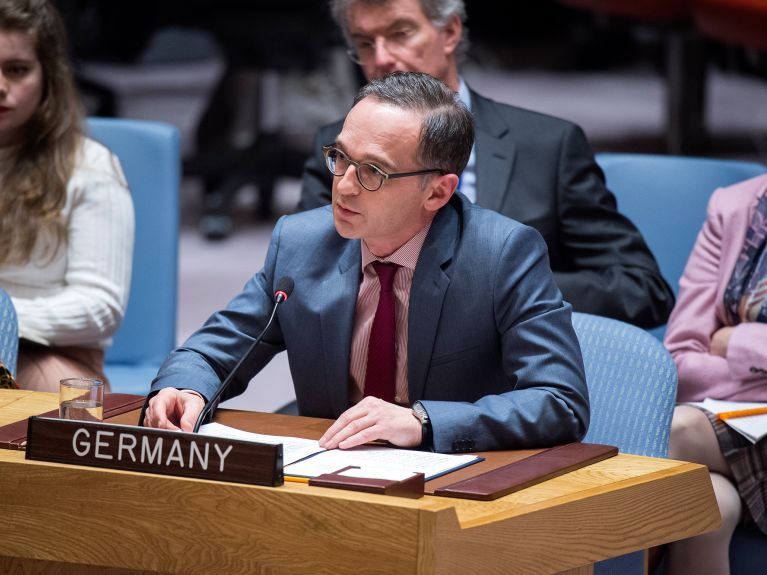 On 1 January 2019, Germany became a non-­permanent member of the United Nations Security Council for the 2019/2020 term. As a result, Germany has assumed major responsibility for peace and security in the world for the sixth time in this role.
Our two-year term on the United Nations Security Council began on 1 January 2019. In the elections in June 2018, 184 states gave us their vote – a huge mark of trust in difficult times. As a member of the Security Council, we now want to help find concrete solutions to the pressing crises and conflicts of our age.
The Security Council will thus also be the central point for our engagement for multilateralism and the rules-based international order. Criticisms of the Security Council notwithstanding, I would not like to imagine a global order without this crucial forum for crisis diplomacy. Germany has in the past benefited greatly from multilateral cooperation; it is the foundation for our security and our prosperity. Again and again we see that it is to the benefit of all if we work together, coordinate at international level and elaborate and apply rules together. Our maxim is: "Together first".
We want to work with the other European Se­curity Council members to strengthen Europe's voice in New York. And if we Europeans find a common position, our voice will have greater weight. I am particularly pleased that we are planning joint presidencies with France for March and April 2019. Such a move is unprecedented in the Secur­ity Council, and it issues a signal: for a strong Europe in New York and for the Treaty of Aachen. Germany and France intend to place their joint focus on strengthening international humanitarian law and humanitarian principles. Together we want to orient the Security Council more to crisis prevention and sustainable peacekeeping. In this context, it is important that the Council cooperates better with other bodies within the UN system, such as the Human Rights Council.
It also involves paying greater attention to the impact climate change has on peace and security. The subject of climate and security was already on the agenda at the start of our term in January. During the discussions, it became clear that the Security Council cannot close its eyes to the effects of climate change on peace and security. Climate change is real; it has a global reach and so needs to be taken into account in all conflict situations.
During our Council presidency, however, we also want to intensify our efforts in the field of disarmament and non-proliferation and advocate for the further strengthening of the "Women, Peace and Security" agenda. This includes ensuring better protection for women against sexualised violence and strengthening their role in peace processes.
Germany has been engaged on the ground in many specific crises for years, as one of the largest donors of humanitarian assistance in the world, or in special formats, such as the Normandy format on eastern Ukraine or the Small Group on Syria.
I am looking forward to these two years in which we hope to play an active role in shaping the Security Council and to be a clear European voice. That is multilateralism in practice. And we need more of that!
You would like to receive regular information about Germany? Subscribe here: