"Our values are the same"
Women are crucial for world peace: we talked to four women who are campaigning for just that.
Transcripts: Sabine Buchwald / 21.08.2019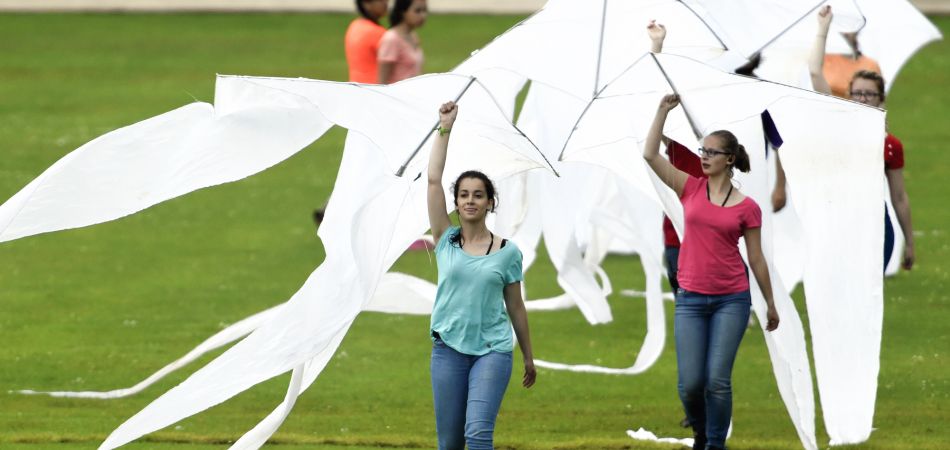 Studies have found that when men and women have equal rights in a society there are fewer conflicts within and between states. Accordingly, the 10th World Assembly of the Religions for Peace in Lindau has organised a special forum for women. We spoke to four participants, who are campaigning for a more peaceful world.
"During the last 20 years I have devoted a great deal of energy to the peace process in Bosnia-Herzegovina and other crisis regions in the world. The cruel war in my homeland has undoubtedly left its mark on me. I want to mediate between young people of different religions. Above all, I endeavour to reach people who hardly leave their own surroundings and whose thinking is governed by clichés. That's why we go into mosques and churches and offer workshops. The participants should learn to express themselves nonviolently and become more open towards people with different views. I am a Muslim myself, but the stories of Muhammed and Jesus make it clear that the values of Muslims and Christians are the same."
Amra Pandžo, 40, is Director of Mali Koraci, which translates as "small steps". The organisation in her hometown of Sarajevo supports dialogue within family and society. Amra Pandžo is completing a doctorate on security and peace at the University of Sarajevo.
"For me, education is the way to open people's eyes and thereby actively work for peace. I began as a chemistry and biology teacher for older students. When I had children myself, I moved to primary school. That is not only about children learning to read and write. We must educate them to make trusting friendships.
It is crucial for a peaceful world that women raise their voice.
Ravinder Kaur Nijjar
I was born into a Sikh family in India and came to the UK as a six-year-old. My history left its mark and made me campaign for women's rights. In many societies women are barely heard. It is crucial for a peaceful world, however, that they raise their voice. Women are essential for world peace. If you educate women, this helps their families and the whole of society."
Ravinder Kaur Nijjar, 60, is Chair of Religions for Peace (RfP) in the United Kingdom and Member of the Global Women of Faith Network. In 2013 she was honoured with the Scottish Asian Women's Lifetime Achievement Award for her work.
"Working for peace is a unifying element of faith traditions worldwide. As a Mennonite and General Secretary of Church and Peace, I know many Christian initiatives not only from my own Church, but also from various denominations throughout Europe that want to follow the example of Jesus in consistently practised nonviolence.
We are striving for a common, just future for all. This means struggling for reconciliation, peace education and nonviolent conflict resolution.
Lydia Funck
Our members in 14 countries work in their respective contexts on the theme of the Assembly: striving for a common, just future for all. This means struggling for reconciliation, peace education, nonviolent conflict resolution, working for justice in the distribution of the world's resources and working for the integrity of creation. At the Lindau conference, I am looking forward to meeting more people and organisations that actively support peace on the basis of their spirituality and entering into dialogue with them. Interreligious encounters will become even more important in the future for peaceful coexistence in Germany, Europe and beyond."
Lydia Funck, has been General Secretary of the European ecumenical peace church network Church and Peace since April 2017. She is a member of Bad Königshofen Mennonite Church and holds a Master's degree in peace and conflict studies from Philipps University of Marburg.
In the light of increasing polarisation in society, politics and religion, understanding between cultures and religions has never been more important than it is today. Interreligious dialogue is growing strongly here, combined with a peace mission that I currently miss in international politics. In my work I actively campaign for peaceful coexistence. The recent horrific attacks on places of worship and people at prayer in Pittsburgh, San Diego, Christchurch and Sri Lanka alone show just how great the need for action is and the fact that we are all in the same boat.
I hope we can create fresh impetuses together in Lindau that will enable us to better protect practising religious people and the whole of society.
Shorena Mikava
I think that the increasing hate within society, in politics and, above all, on the Internet has prepared the ground for these terrible attacks. I hope we can create fresh impetuses together in Lindau that will enable us to better protect practising religious people and the whole of society. That's why I'm very pleased to take part in discussions with representatives of other religions here.
Shorena Mikava is Legal Counsel and Special Adviser of the Board of Patrons of the Conference of European Rabbis (CER). She studied law in Tiflis and Munich.