Who will win the 2017 "Lesefüchse International"?
Discussing books critically, and in German, a foreign language, to boot. What motivates the young people taking part in the "Lesefüchse" (reading foxes) competition? 
14.09.2017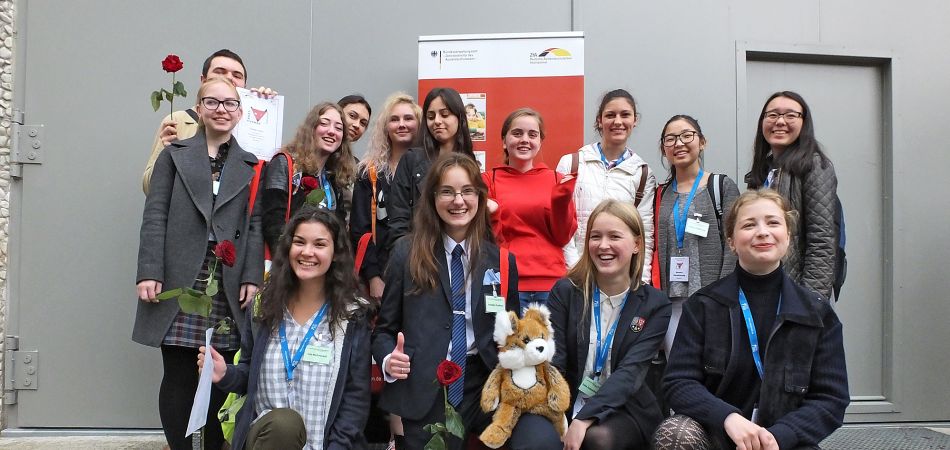 They have made it to the final round: On 14 September, 14 youngsters from Central and Eastern Europe will be in Berlin for the final of the "Lesefüchse International" reading and debating competition. Aged between 15 and 18, the schoolkids will discuss, in German, the young people's books "Like Me" by Thomas Feibel, "Zeit der großen Worte" by Herbert Günther, "Echt" by Christoph Scheuring and "Brennendes Wasser" by Lukas Erler. A jury and the audience will together choose the 2017 winner.
"Discovering new horizons"
"I think literature helps us discover new horizons and breath-taking worlds, and to recognize ourselves in the stories," says Aselia Orozova, a participant from Kyrgyzstan. Dalia Karpauskaitė from Lithuania thinks the best thing about reading is "not disagreeing or believing every word, but reflecting on what I have read and discussing it with others."
The project is intended to encourage the youngsters to critically question what they read and to motivate them to put their own point of view up for discussion. "A new language is also always a gateway to a new world, and in particular to the people who live in this new world", Federal Foreign Minister Sigmar Gabriel, the patron of the competition, tells the participants.
Learning German at PASCH Initiative schools
The Central Agency for German Schools Abroad (ZfA) organizes the competition in cooperation with the International Literature Festival Berlin, which is taking place until 16 September. The school pupils taking part come from Bulgaria, Romania, Hungary, Georgia, Mongolia, Russia, Belarus, Latvia, Lithuania, and Estonia. They are learning German at language diploma schools that are supported by the ZfA and are part of the PASCH Initiative "Schools: Partners for the Future" network.