What Germany is reading
Goethe, Schiller, Brecht and Hesse are known all over the world. But what do Germans themselves most like to read? We have some reading tips.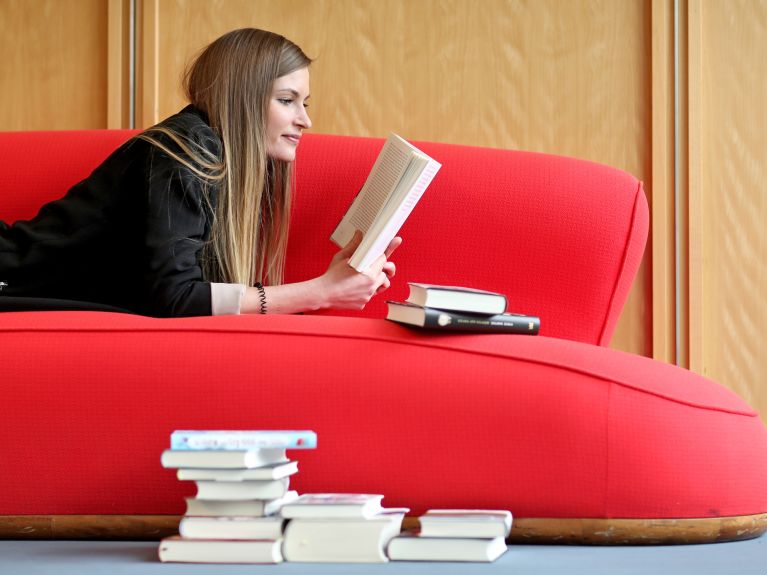 Deutschland Books made of paper are in demand – still. Germans prefer to read books rather than e-books, and more often than you might think. According to a website called statista.de, 39 percent read five books a year, 27 percent more than ten. Novels and thrillers are the most popular. Book lovers prefer to read at home on the sofa; they also like to browse through a few pages in bed before falling asleep, according to a survey conducted by the German Publishers & Booksellers Association. Trains and buses come third when it comes to the most popular places for reading.
Best sellers in July 2017
'The History of Bees' by Maja Lunde
In her novel, the Norwegian author describes what connects generations of people with bees.
'Und ewig schläft das Pubertier' (no English title) by Jan Weiler
In the third part of the series, the journalist and best-selling author tells of his life as the father of two teenagers in a book full of wit and esprit.
'My Brilliant Friend' by Elena Ferrante
A novel from Italy about a life-long friendship between two young women.
'Selfies' by Jussi Adler-Olsen
A thriller from Denmark about a murder case in Copenhagen.
'An Era of New Beginnings' by Carmen Korn
The second part of this trilogy of the century plays in Hamburg in 1949.
Overview: best-seller lists for fiction, non-fiction, children's books and audio books:
Award-winning literature
People seeking inspiration for excellent reading material can find guidance from the most important literary prizes for German-speaking authors:
 
The German Book Prize: every year on the occasion of the Frankfurt Book Fair, a jury chooses the German-language novel of the year. The short-listed and long-listed books are announced beforehand.
The Georg-Büchner Prize is awarded in memory of the writer Georg Büchner (1813- 1837). The most recent prize-winners: Jan Wagner (2017), Marcel Beyer (2016), Rainald Goetz (2015).
The Ingeborg Bachmann Prize is awarded during the Festival of German-Language Literature in Klagenfurt, Austria. The authors may only read out unpublished prose texts.