Hundreds of thousands demonstrate against the war
Hundreds of thousands of people in Germany have demonstrated against the war in Ukraine. The biggest peace demonstrations took place in Berlin and Cologne. 
01.03.2022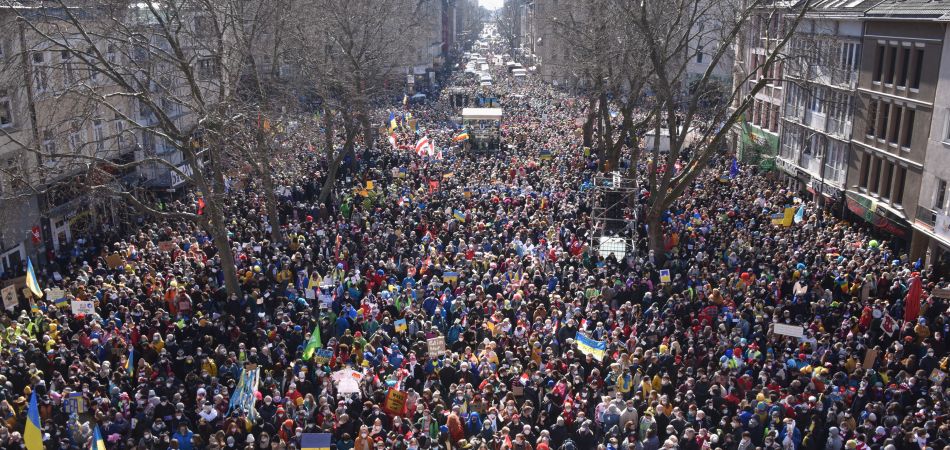 Berlin (dpa)- Hundreds of thousands of people in Germany have taken to the streets to protest against the war in Ukraine. After Sunday saw one of the largest rallies in recent years take place in Berlin, more than a quarter of a million people in Cologne demonstrated for peace and democracy on Monday. The peace demo in Germany's carnival stronghold was held instead of the traditional Shrove Monday carnival procession. People in numerous other German cities also showed their solidarity with Ukraine.
The police said that the number of people who attended the large-scale demonstration in Berlin on Sunday was in the lower six figures, while the organisers even estimated that half a million took part. An alliance of trade unions, churches, initiatives, environmental organisations and peace groups had called for the demonstration against Russia's attack on its neighbouring country. The organisers had initially expected 20,000 participants under the banner "Stop the war. Peace for Ukraine and all of Europe".
On the day the war started last week, the organisers of Cologne carnival had decided to stage a peace demo. The usual Shrove Monday procession through the city had already been cancelled on account of the coronavirus pandemic. "The people of Cologne and the carnival have shown that everyone stands united when it comes to the crunch", said Cologne's Carnival President Christoph Kuckelkorn. "Today it wasn't about exuberant celebrations but about making a loud and colourful protest against the war in Ukraine."