More than 23,000 evacuees in Ramstein
Ramstein Air Base near Kaiserslautern has been the US hub for refugees from Afghanistan since 20 August. Around 15,000 are currently waiting to continue their journey.
31.08.2021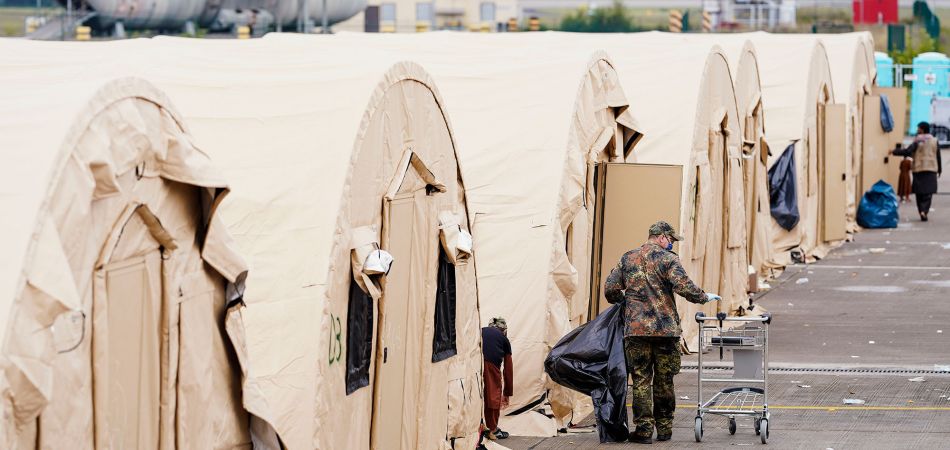 Ramstein (dpa) - More than 23,000 evacuees from Afghanistan had landed at Ramstein Air Base in the German state of Rhineland-Palatinate by Monday. Around 15,000 of them are currently waiting at the US military airbase to continue their journey, the US air base announced. More than 8,000 evacuees have already departed on 38 flights from the air base to their "resettlement locations". Ramstein near Kaiserslautern has been a US hub for refugees from Afghanistan since 20 August.
US Air Force personnel, US Army soldiers and hundreds of volunteers are helping to support the evacuees to ensure they can reach their final destination via Ramstein, the Ramstein site added. Around 1,700 more evacuees were expected to arrive at the air base during the course of Monday. Some 100 planes carrying evacuees have reportedly already landed at Ramstein so far. Ramstein is the largest US air base outside America.
Those seeking protection, such as former US local personnel in Afghanistan and their families, who have left their homeland for fear of the Taliban, are initially being accommodated in tents and aircraft hangars at the air base. They are registered and given medical treatment if needed. People from Afghanistan are also being accommodated temporarily at a US military facility in Kaiserslautern.
More about peace and security