"Time for help"
Disastrous flooding in Germany: Numerous top politicians have visited the crisis areas and pledged help. International sympathy has also been expressed.
20.07.2021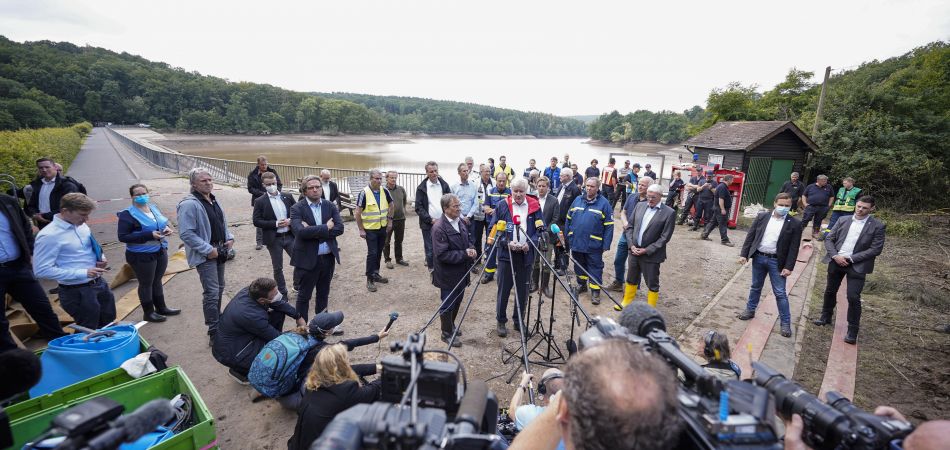 Euskirchen (dpa) - Numerous leading politicians have visited the crisis areas, expressed their sympathy and pledged help. On Sunday, Chancellor Angela Merkel and Prime Minister Malu Dreyer visited the village of Schuld in the district of Ahrweiler in Rhineland-Palatinate, which had been severely damaged by the disastrous flooding. Federal Minister of the Interior Horst Seehofer and North Rhine-Westphalia's Prime Minister Armin Laschet (photo) were at the flood crisis operations centre at Steinbach dam in Euskirchen (NRW) on Monday. Both politicians expressed relief that there was no longer any fear of the dam bursting at the site, which has been secured for days.
Minister of the Interior Seehofer expressed his shock at the natural disaster, saying that he had never experienced anything like it. "Now is the time for help and solidarity," he said. First of all, immediate aid needs to be provided "for those who have nothing left but the clothes they stand up in". Both politicians thanked the fire brigades, the Federal Agency for Technical Relief (THW) and the German Armed Forces for their support at the dam, which was threatened by the floods. Because of the danger, four villages in the towns of Euskirchen and Rheinbach with more than 4,500 inhabitants had been evacuated for days.
Several politicians praised the civil courage of Eifel civil engineering contractor Hubert Schilles. Last Thursday, he had agreed without hesitation to dredge the drain of the Steinbach dam in Euskirchen, which had been flooded with soil and debris, thus putting his own life in danger. Schilles himself remained modest, explaining that he knew exactly what was at stake for the villages below the dam. "It was clear to me that help was needed immediately. There's no time to stop and think about it".
International sympathy has also been expressed. The town hall of the Israeli coastal city Tel Aviv was lit up in the colours of the German flag on Sunday evening. Mayor Ron Chuldai offered his condolences to "the German people and our many friends in our twin cities in Germany". "On behalf of the people of Tel Aviv, I send best wishes for a speedy recovery from this terrible disaster."