Tracking down the virus
Voluntary apps could soon play an important role in stopping the spread of the coronavirus. These three platforms could help to achieve that.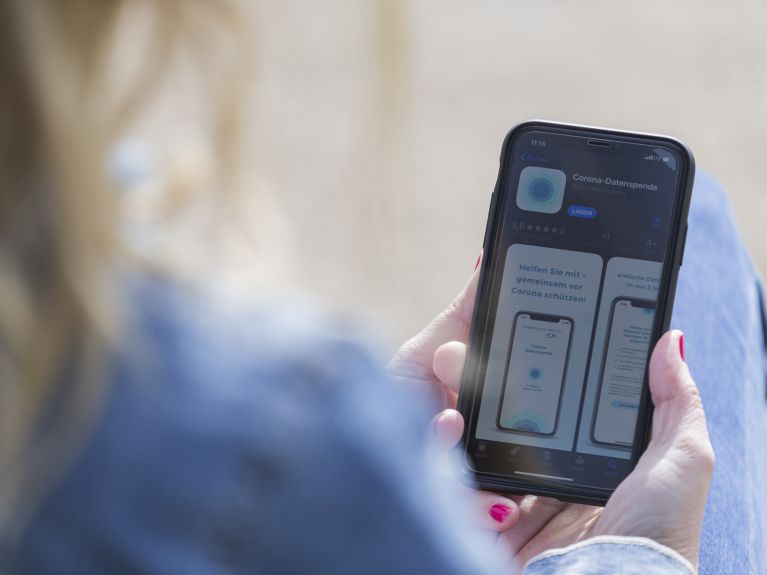 European corona proximity tracing
What does this app do?
This tracing system aims to use Bluetooth to detect when two smartphones come into close proximity. When someone reports an infection, all the phones that have been close to that user will receive a push message. The system is intended to work throughout Europe and should launch soon.
Who developed the app?
Pan-European Privacy-Preserving Proximity Tracing (PEPP-PT) is an initiative with 130 members from eight European countries. The system has been tested with Bundeswehr soldiers.
Who benefits from the app?
The app aims to swiftly and anonymously inform users if they have been in contact with an infected person. Health authorities normally have to painstakingly track down all contact persons.
Robert Koch Institute data donation app
What does this app do?
The Corona-Datenspende app collects data to study the spread of the coronavirus. You need a fitness tracker or a smartwatch to donate your data. Information is recorded on vital body functions, such as resting pulse rate, sleep and level of activity. These parameters usually change significantly in the event of an infection; the app also recognises typical symptoms, such as fever. Details of the user's sex, age, size, weight and postal code are stored under a pseudonym.
Who developed the app?
The app was developed for the Robert Koch Institute (RKI).
Who benefits from the app?
RKI researchers are using the data to draw conclusions about the spread of the coronavirus; these are then published in an interactive map.
Corona advice app
What does the app do?
Covid-Online is a fast corona check-up for use at home: it asks for information on symptoms, existing illnesses and possible contacts with infected persons. An algorithm evaluates the user's personal risk of being ill with corona and makes concrete recommendations. The application is currently only available as a web app, but a smartphone app is planned.
Who developed the app?
Researchers, emergency doctors and medical and computer science students from Marburg evaluated patient data from all over the world and used this to develop an algorithm.
Who benefits from the app?
It aims to help people who wonder whether they are sick with the coronavirus and cannot get through to health authorities. The app also reduces pressure on the health system.
You would like to receive regular information about Germany? Subscribe here: