Industry 4.0: companies join forces
This year, the Hannover Messe trade fair is all about digitization. German companies are boosting their potential with a clever strategy.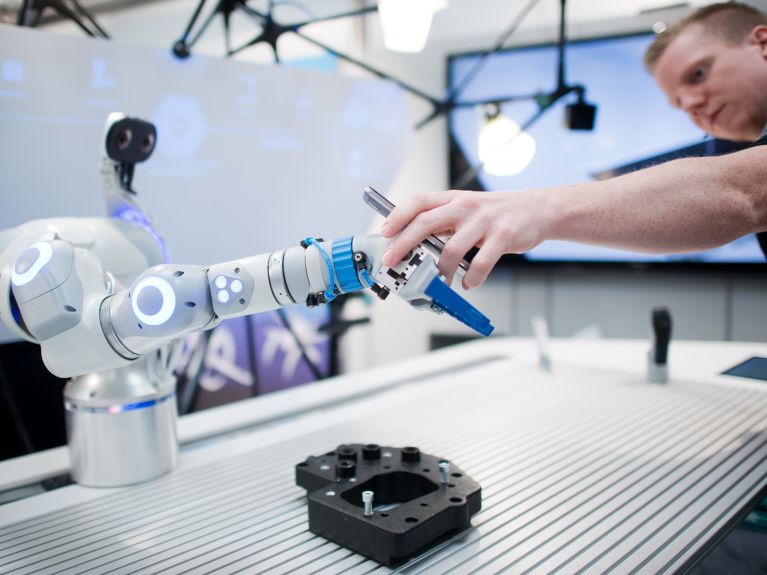 Germany. Digital twins, collaboration between humans and robots, intelligent factories: these are the exciting topics at the 2018 Hannover Messe trade fair. Everything revolves around digital networking. How are German companies tackling the challenges? The new technology raises many questions. Here are the most important answers on the fourth stage of industrial development.
What does Industry 4.0 mean?
After the steam engine, mass production and automation, digitization is seen as the fourth industrial revolution. It is radically changing manufacturing, production, logistics and administration.
How are German companies meeting the challenges of Industry 4.0?
Many major German corporations are developing customized technologies for digitization – in manufacturing, aviation, logistics and software development. Mechanical engineers, too, are refining ever-more-intelligent machines. Strategic advantages are offered by joint ventures in which several company bundle know-how and market power: Take ADAMOS, for example. In 2017, DMG Mori, Dürr, Zeiss, Homag, Schenck and others got together with Software AG to form a strategic alliance for Industry 4.0 and the Industrial Internet of Things (IIoT). They now offer networked production technology for a range of industrial sectors on an open IIoT platform.
What aim are the providers pursuing?
In most cases, the partners of joint ventures want to exchange ideas and views to establish a standard, because at present there are still many different approaches and interfaces. This makes it difficult particularly for smaller companies and suppliers to manage the transformation. They often have to purchase a different technology for each customer order – and then train the workforce to use new software. So it is not only a matter of managing the digital transformation according to your own ideas, but also according to the needs of the market.
What advantages do joint ventures have in Industry 4.0?
First of all, there is a need for optimization, monitoring and flexibility. Ideally there are reductions in machine downtime, error rates and unit labour costs. That saves costs. In logistics, delivery times are optimized and storage spaces coordinated. Administration is automated and thus becomes less complicated. The advantage for consumers: in certain industrial sectors, such as furnishing or clothing, customized production becomes affordable.
Will the digital transformation succeed?
The risks are considerable. The digital transformation demands a lot of investment from industry: they must develop new machines, robots and programs, and integrate digital technology into manufacturing, production, administration and logistics. There are also strict demands on data privacy. It will also be a challenge to organize the fourth industrial revolution in a way that is socially acceptable.
Hannover Messe, 23 – 27 April 2018